Resolutions? by Debra H. Goldstein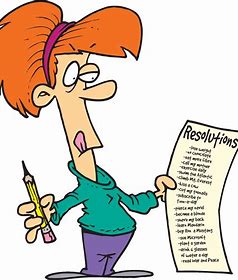 Resolutions? by Debra H. Goldstein
January
14. Two weeks since 2022 began. If you are like me, two weeks is more than
enough time to have broken every resolution you made or contemplated making.
That's why, this year I didn't make any resolutions. Instead, I decided to roll
with the flow.
How's
that going? I'm not sure. I seem to be weaving down a lot of different paths.
Some of them are fun to explore, but many are dead ends. Of course, even when I
know which way I'm going, there have been many unforeseen obstacles ranging
from the soaring Omicron numbers to realizing my new sneakers look pretty but
don't fit my orthotics and feet well for extended walking.
My
writing seems to be following the same pattern as my life. Instead of resolving
to write a set number of words a day or so many stories a month, I've been
letting the muse guide me. How's that going? Not well. I'm playing a lot more
solitaire than I should be. What's worse, I'm repeatedly surfing the net to see
if there are any unread news stories, touching human interest articles, or
exciting things reported by friends.
The
latter makes me happy for them; but, if they are writers, it also prompts a
little jealousy. Why are they getting things accomplished and I'm not? I guess they
made resolutions that they are carrying through. There are still fifty weeks in
2022. I think there's still time for me to make and act on a few resolutions.
What about you?
https://www.thestilettogang.com/wp-content/uploads/2022/01/resolutions-by-debra-h-goldstein-884740065.jpeg
280
238
Debra
https://www.thestilettogang.com/wp-content/uploads/2022/03/TheStilettoGang-logo-09.png
Debra
2022-01-14 07:00:00
2022-07-05 17:03:14
Resolutions? by Debra H. Goldstein