How to Keep a Longstanding Cozy Mystery Series Fresh
By Lois Winston
Have you ever fallen in love with a series only to discover that the author stopped writing it? Some writers get tired of writing about the same characters and move on to writing other books. Others fall victim to the fickleness of the publishing industry. Authors are dropped if their sales don't continue to increase or increase enough, others because the editor who championed the series changes jobs or is laid off. Lines folds. Publishing houses merge or goes bankrupt. The reasons are myriad.
Those of us who have walked away from traditional publishing to "go indie" no longer have to worry about holding our breaths, waiting to hear if our current contract will be extended or a new one offered. We're free to keep alive the characters we love for as long as we want to write about them. The challenge that confronts us is how to keep a longstanding series from getting stale.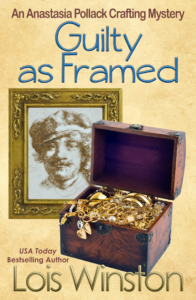 Guilty as Framed, my eleventh Anastasia Pollack Crafting Mystery, will release in less than two weeks on September 6th. Keeping a series fresh after that many books (plus three novellas), is a challenge. After all, there are only so many ways the victim can die, especially in a cozy mystery where you need to keep the gruesome stuff off the page. There are also just so many ways an amateur sleuth can insert herself into a crime without readers becoming incapable of suspending disbelief.
To keep my series fresh, I decided early on that I'd periodically introduce new characters into Anastasia's world. I began in Revenge of the Crafty Corpse, Book 3, where I introduced Ira Pollack, Anastasia's deceased husband's previously unknown half-brother, and his brood of spoiled kids. Also, in that book readers first meet Lawrence Tuttnauer, Anastasia's future stepfather. In the following book, Decoupage Can Be Deadly, I introduced ex-Special Forces, IT expert, and bodyguard Tino Martinelli. All three men have had recurring roles in subsequent books.
In Drop Dead Ornaments, Book 7, I gave Anastasia's son Alex a girlfriend. She and her father also play pivotal roles in Handmade Ho-Ho Homicide and A Sew Deadly Cruise, books 8 and 9.
Not every character makes an appearance in every book, though. Sometimes only a passing reference is made to them, sometimes not even that. Other times they once again become major secondary characters in the story. It depends on the book. But these additional characters I've created throughout the series enable me to come up with interesting character arcs and fresh plots.
I also didn't want my series to succumb to Cabot Cove Syndrome, something the writers of Murder She Wrotebegan to become aware of as the popular series continued. Given the size of the town and the rate of murders, eventually Jessica Fletcher would wind up the only citizen left in the tiny hamlet. So the writers wisely decided to send Jessica off on various adventures. Of course, the dead bodies kept piling up no matter where Jessica went, but at least the murders were no longer all occurring in Cabot Cove.
I've done the same with Anastasia. Some of the books in the series center around her workplace, others around her home. In Death by Killer Mop Doll, Book 2, the setting is a television studio in New York City. A Sew Deadly Cruise is a "locked room" mystery with the murders taking place when Anastasia and her family are on vacation. Stitch, Bake, Die! is another "locked room" mystery, taking place at a conference center during a storm.
In Guilty as Framed, the story once again centers around Anastasia's home, but in this book, the plot involves an actual unsolved crime that took place in Boston in 1990. Not only do I need to keep my stories fresh for my readers, I need to challenge myself with each new book. As much as I enjoy spending time with my characters, I need a creative challenge to keep from falling into the same old/same old abyss.
Guilty as Framed was quite the challenge! Not only does the plot center around a thirty-two-year-old cold case, but the crime occurred more than 250 miles from where Anastasia lives, and most of the persons of interest and suspects have long since died, from either natural or unnatural causes.
Mysteries provide a challenge to the reader to figure out whodunit before the end of the book. Guilty as Framed proved a huge challenge to me as the writer. I hope readers find it as satisfying to read as I did to write.
An Anastasia Pollack Crafting Mystery, Book 11
When an elderly man shows up at the home of reluctant amateur sleuth Anastasia Pollack, she's drawn into the unsolved mystery of the greatest art heist in history.
Boston mob boss Cormac Murphy has recently been released from prison. He doesn't believe Anastasia's assertion that the man he's looking for doesn't live at her address and attempts to muscle his way into her home. His efforts are thwarted by Anastasia's fiancé Zack Barnes.
A week later, a stolen SUV containing a dead body appears in Anastasia's driveway. Anastasia believes Murphy is sending her a message. It's only the first in a series of alarming incidents, including a mugging, a break-in, another murder, and the discovery of a cache of jewelry and an etching from the largest museum burglary in history.
But will Anastasia solve the mystery behind these shocking events before she falls victim to a couple of desperate thugs who will stop at nothing to get what they want?
Buy Links
~*~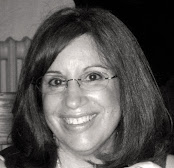 USA Today and Amazon bestselling and award-winning author Lois Winston writes mystery, romance, romantic suspense, chick lit, women's fiction, children's chapter books, and nonfiction under her own name and her Emma Carlyle pen name. Kirkus Reviews dubbed her critically acclaimed Anastasia Pollack Crafting Mystery series, "North Jersey's more mature answer to Stephanie Plum." In addition, Lois is a former literary agent and an award-winning craft and needlework designer who often draws much of her source material for both her characters and plots from her experiences in the crafts industry. Learn more about Lois and her books at her website www.loiswinston.com where you can also sign up for her newsletter and follow her on various social media sites.
https://www.thestilettogang.com/wp-content/uploads/2022/03/TheStilettoGang-logo-09.png
0
0
Lois Winston
https://www.thestilettogang.com/wp-content/uploads/2022/03/TheStilettoGang-logo-09.png
Lois Winston
2022-08-24 12:30:02
2022-08-06 17:27:01
How to Keep a Longstanding Cozy Mystery Series Fresh