Ten Stories That Worried My Mother by Winona Kent
I'm excited to welcome Winona Kent to the blog today. I served on the board of Crime Writers of Canada with Winona. She is a great writer and has a super new anthology out. Read on to hear more about it…
TEN STORIES THAT WORRIED MY MOTHER by Winona Kent
Earlier this year I decided to release an anthology of short stories. I had two reasons: the first was that I had a few personal appearances coming up, and I wanted something new to sell. I was halfway through my next novel and I was pretty certain it wasn't going to be ready in time. The second was that I realized I'm mostly only known for my long fiction…and that I actually do have a background in short story-writing! But, for various reasons, very few people know about that. And I really did want to share those stories with my current readers.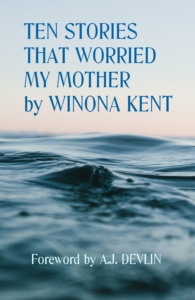 I chose the title Ten Stories That Worried My Mother largely because, well, she constantly worried about me being a writer. That's a subject for a whole other blog—how to deal with a parent who brought you up not to attract attention to yourself, not to say anything that might reflect badly on you (or her, or the family), and most definitely not to write stories with interesting characters and situations, in case friends and relations might think it was about them.
Interestingly, I once took part in a creative writing workshop where the assignment was to write a story using only animals as characters, and the characters had to be based on us, ie, everyone in the workshop. None of us were able to recognize ourselves. Or each other, for that matter. Which convinced me that unless you use really specific character traits or situations that readily identify who you're writing about, you're probably on safe ground.
A few months before my mum died in 2021 (aged 95), I thought I might read one of my more recent stories to her aloud. Her eyesight was failing, and I really wanted to share it with her, especially because it had made the shortlist for the Crime Writers of Canada's Awards of Excellence for Best Crime Novella. The story was "Salty Dog Blues."
She listened patiently, but punctuated my narration with predictable Oh dear!'s and Ohhhh's. I loved her dearly and I knew that would be her reaction, but I was determined to convince her (in my late 60's!) that I really was a decent writer, after all.
When I finished, she said, "It's very good." I waited. I knew what was coming next. "But you can't say those things about the cruise line your sister worked for! What if they come back and cause problems for her?"
I pointed out that the cruise line was called something else, and it didn't have a current ship that was even remotely like the one in "Salty Dog Blues", and that yes, I'd used my experiences sailing with my sister (who'd been a Captain's Secretary) in the story's details, but my sister hadn't actually worked for them in a very long time and what, exactly, did she anticipate the problems might be?
She didn't have an answer for that, of course. But my mother was, by nature, a worrier. And she wasn't happy unless her thoughts were fueled by apprehension.
And so, of course, the title Ten Stories That Worried My Mother was strategically chosen to make her happy. And I'm certain she's out there, somewhere—very proud of me—but fretting unnecessarily, and absolutely convinced someone in our family will think badly of her—or me—for writing it!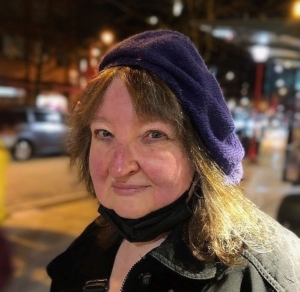 Ten Stories That Worried My Mother (four prize-winners, three mysteries, two previously unpublished works and one where the hero manages to spare-change John Lennon at the premiere of A Hard Day's Night in 1964), with a foreword by A.J. Devlin, is published on August 22, 2023.
Winona Kent
Author of Ticket to Ride (Book 4 in my Jason Davey Mysteries)
Regional representative, BC/YT, Crime Writers of Canada
Active Member, Sisters in Crime-Canada West
www.winonakent.com
https://www.thestilettogang.com/wp-content/uploads/2023/08/winona.kent_.jpg
690
710
Sydney Leigh/ Lynn McPherson
https://www.thestilettogang.com/wp-content/uploads/2022/03/TheStilettoGang-logo-09.png
Sydney Leigh/ Lynn McPherson
2023-08-22 04:21:19
2023-08-21 12:45:24
Ten Stories That Worried My Mother by Winona Kent