Does the rise of artificial intelligence make you want to scream, "AI, caramba!"? *
While there's speculation that AI may cost some people their jobs, writers worry that AI will lead to rampant plagiarism. All of which reminds me of a time in the pre-digital era when an entire work of mine was plagiarized by a living, breathing human being. It happened in a manner so blatant, it was almost comical.
I was the editor of a national tennis magazine (my first full-time job in publishing). One day, a freelancer who was looking for an assignment stopped by my office to drop off some samples of his past articles.
We had a brief chat about his experience, which seemed fairly extensive, and we planned to talk more after I'd read his work.
Later that day, I looked through the material he'd left and noticed that one item was an interview he'd conducted with the manager of Jimmy Connors, who was a world-class champion at the time.
I had interviewed the same man some months before. So out of curiosity, I chose the freelancer's interview with him to read first. Its format was a simple Q. & A.
I read the first question and the manager's response. I read the next question and answer. It wasn't until the third Q. & A. that something began to feel familiar.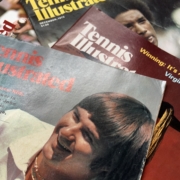 I went to my back files, found the issue I was looking for, and flipped to the page with my interview on it. Everything was identical, down to the last comma and period, except for the photos and the freelancer's name instead of mine in the byline.
At first, I was amazed at the audacity. It occurred to me that the thief might have stolen so many works from other writers that he never bothered to keep track of whose article he was submitting to whom.
And then I got mad.
The magazine with the pilfered interview was based in Australia, a big tennis mecca back then, with its own national stars like Laver and Goolagong. I sat down and wrote to the publisher, informing them that they had published a stolen article. I included a copy of my original piece, along with my suspicion that there may be more of the same from that individual.
Two days later, the plagiarizer showed up again and asked me what I thought of his work. I let my fury fly while he sat there stone-faced. After I was through, this is what he said: "So, you won't be hiring me?"
I kid you not.
I never heard from his publisher, and I never saw or heard from the pilferer again. But I'll always think of him as a lazy, cheating son-of-a-gun, like a grownup and ever-unrepentant Bart Simpson.
Gay Yellen is the award-winning author of the Samantha Newman Mystery Series, including The Body Business, The Body Next Door, and the upcoming Body in the News.
*a nod to Bart Simpson, The Simpsons, Twentieth Century Fox Corp. Free use.
https://www.thestilettogang.com/wp-content/uploads/2022/09/Gay-Yellen.jpg
1617
1155
Gay Yellen
https://www.thestilettogang.com/wp-content/uploads/2022/03/TheStilettoGang-logo-09.png
Gay Yellen
2023-05-09 00:18:48
2023-05-08 20:08:51
Whose Words Are These?