Perseverance
By Cathy Perkins
We're living in crazy times right now. The world feels turned
upside down and inside out by the pandemic and I refuse to mention the horrible
political climate in the US. When I talk with friends about writing, the publishing
industry, and life in general, I hear a constant refrain of how difficult it
has become.
Last week, my husband and I finally ventured out of our
bubble and visited my daughter's in-laws. (Yes, we like our kids' in-laws!) One
of our many hikes ventured into ancient lava flows – stark, alien terrain. Obsidian
faces as bright and shiny as a new penny belied the 7000-year-old explosion
that created them.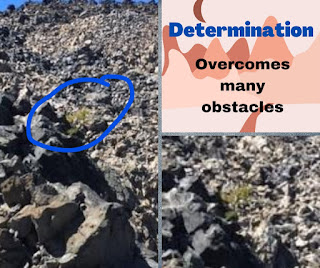 But amid all that desolation, there was a tree.
A small tree, it put down roots and built a home. And
slowly, slowly, it thrived.
The lesson is obvious but still so hard to hear. Patience. Determination.
Willingness to take a risk.
As an author, I've slowly built a library of books. I'm so
grateful to the people who read them. They're the reason I write. If you've
read one or more of them, thank you for rewarding me with your faith in my
ability to tell a story and offer a few hours of escape and entertainment.
This picture, however, reminds me that even in these uncertain
times, it's up to me to find a way to thrive.
(And for a tiny bit of shameless self promotion, So About the Money, book 1 in the Holly Price mystery series is on sale today. http://bit.ly/AllAmazon_SATM )
An award-winning author of financial mysteries, Cathy Perkins writes twisting dark suspense and light amateur sleuth stories. When not writing, she battles with the beavers over the pond height or heads out on another travel adventure. She lives in Washington with her husband, children, several dogs and the resident deer herd. Visit her at http://cperkinswrites.com or on Facebook
Sign up for her new release announcement newsletter in either place.

She's hard at work on sequel to The Body in the Beaver Pond, which was recently presented with the Claymore Award.
https://www.thestilettogang.com/wp-content/uploads/2020/08/InkedDetermination2B252812529_LI.jpg
268
320
CathyP
https://www.thestilettogang.com/wp-content/uploads/2022/03/TheStilettoGang-logo-09.png
CathyP
2020-08-20 11:54:00
2022-07-05 17:25:30
Perseverance