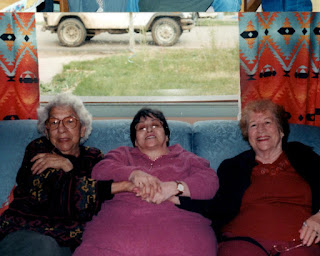 Louise, Emma, Rose 1998
March Madness or March comes in like a lion and goes out like a lamb. March reminds me that spring is about to spring on us in big and little ways. This photo of my Mom and two of my aunts reminds me of the strength of the bond between women, sisterhood.
This month's post is dedicated to my little sister, Lynette Aragon, may she rest in peace. I'm going to tell you about how she taught me the meaning of sisterhood.

Lynette and Juliana Aragon 1980's
We are only two years apart, she would have turned fifty-eight in April. I will miss her and her great sense of humor. Even while death was beating on her door, she kept her cool, her attitude, her grace.
She shared stories with me all the time. She knew I was writing a novel and asked me about it when we talked. I told her my plan to record our family's stories and my belief that as long as your name is spoken, you are not forgotten and live on. I plan on writing poems and stories about her and keeping her memory alive. She led a life full of mischief and drama and she left with a whisper.
Lynette liked to wear sneakers and peddle pushers. She kept her hair permed, colored, and styled. She went to beauty school and one time she asked me to be her model so she could pass the final exam and graduate. She cut and styled my hair and graduated. I love her. I love her more every day. She confided in me secrets. We shared secrets. We shared a bedroom growing up. She babysat my baby boy, so I could return to high school.
On by 30th birthday, I went a little crazy. I drank and cried in my beer until I blacked out. She rescued me. She put me in the backseat of her car and burned out of the party by the river and drove up and down Main Street. Dragging the gut is the name we gave it.
I bopped and bipped and slid and slopped in the backseat unaware that I was on display for the entire Main Street audience. She pretended she was in a parade and gave the beauty queen wave as she passed all the bars, taverns, saloons, liquor stores, and churches. My body kept sliding down because I wasn't wearing a seat belt and she drove kind of wild (she probably had been drinking at my birthday party).
River Walk and Birthday Party Spot
She pulled up at the liquor store, ran inside, bought cigs, and straightened my body out in the backseat and stuck a cigarette in my mouth. She messed up my hair that was already a mess and put lipstick on my lips. Then she slapped me. Really hard. She slapped me and slapped me again. My sister, Lynette, or Skitter as we called her, had some issues with me that were unresolved, so she gave me the rough stuff. She laughed. She doubled over laughing at the predicament of my drunken state and hopped back in the driver's side and burned out of the parking lot with me flopping like a bobble head. I wish I had video.
A million things could have gone wrong that night. I seriously could have fallen in the Arkansas River and drowned while the party raged on. I could have been eaten by Zombies. DUI? Arrested? Lost? Missing? Yikes. She really did save me that night. I know I made it home safely thanks to her rescue. She saved me in many ways. It wasn't long after this incident that I gave up drinking. I realized I had a serious case of alcoholism.
When I create characters for my stories, I remember to make them human by giving them flaws. We all have them. Making bad choices doesn't mean we are bad people. It means we are human. Humans make mistakes. I learned from my mistakes. I had a serious drinking problem and my characters have issues, secrets, tell lies, hold grudges, want revenge, have egos and dangerous ideas. My sister, Lynette, had flaws. She also had a heart of gold and she loved unconditionally. Through my writing, Lynette will live on in fiction. She can live to be eighty or a hundred instead of only living 57 years. The power of the written word. She leaves behind three sons and seven grandchildren. She had friends who adored her. She was unique. She was Skitter.
My husband and I share 27 years of sobriety together. He knew my sister for 27 years. I've known her for 57 plus years. That's a long history, que no? I have photos of her, some are not flattering, but I would never show them to anyone because she was so beautiful; her disease stole her beauty, her health, her life.
She confided in me her deepest darkest secrets and we shared similar heartaches. She showed me that sister love, sisterhood, is stronger than death. I'm dedicating this post to her life. So what if she slapped me. I probably had it coming, que no?
https://www.thestilettogang.com/wp-content/uploads/2017/03/mom2Baunt2Bemma2Baunt2Brosie.jpg
256
320
The Stiletto Gang
https://www.thestilettogang.com/wp-content/uploads/2022/03/TheStilettoGang-logo-09.png
The Stiletto Gang
2017-03-01 03:30:00
2022-07-05 18:02:10
Sister Love, True Confessions by Juliana Aragon Fatula