So, this happened! That's me in the November 12 issue of
Woman's World.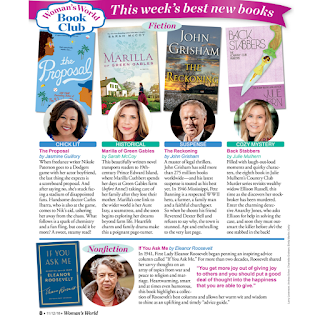 I can safely
say, this is probably the one and only time in my life I'll be hanging out between John Grisham and Eleanor Roosevelt.
The nice-women-don't-toot-their-own-horns part of me wanted
to say nothing. The that's'-me-between-Grisham-and-Roosevelt part of me did a
little shimmy (a big shimmy). The time-to-make-a-living part of me was thrilled beyond
measure.
This holiday season, give an author a gift. Take a moment to
tell a friend about the best book you've read this fall. Encourage them to
request the book from the library, hurry off to their local bookstore, or
one-click. Believe me, somewhere an author will be thrilled beyond measure.




Julie Mulhern is the USA Today bestselling author of The Country Club Murders and the Poppy Fields Adventures.


She is a Kansas City native who grew up on a steady diet of Agatha Christie. She spends her spare time whipping up gourmet meals for her family, working out at the gym and finding new ways to keep her house spotlessly clean–and she's got an active imagination. Truth is–she's an expert at calling for take-out, she grumbles about walking the dog and the dust bunnies under the bed have grown into dust lions.



Her latest book, Back Stabbers is available at your favorite on-line retailer.
https://www.thestilettogang.com/wp-content/uploads/2018/11/Womans2Bworld2Binsta.png
320
320
Julie
https://www.thestilettogang.com/wp-content/uploads/2022/03/TheStilettoGang-logo-09.png
Julie
2018-11-12 00:00:00
2022-07-05 17:46:10
Thrilled Beyond Measure