By Shari Randall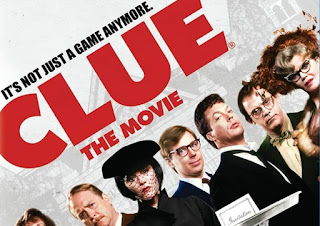 The pandemic has changed many aspects of our lives. It's certainly changed my tv and movie streaming habits. I've never really binged before, movies or tv shows, that is. But now I'm binging with the best of them, and am currently on season four of Brooklyn 9-9. Yes, I'm looking for laughs. Back in March, I made a list of Oscar winners and other serious films that I intended to watch. Have I watched Parasite or Once Upon a Time in Hollywood? Nope. Am I catching up with Agatha Raisin and What We Do In the Shadows? You bet.
After working through as many free options on Netflix as possible, my daughter mentioned that there was a movie version of the Clue board game. How did I not know this? One of my favorite games was made into a movie? With a cast starring one of my favorite actresses, the magnificent Madeline Kahn? In
Clue the Movie
, Kahn plays Mrs. White, a mysterious widow – not the cook/housekeeper of the original game.* On a dark and stormy night, she and several other suspicious characters are invited to
a dinner party at the mansion of Mr. Boddy (Lee Ving). Boddy's butler, Wadsworth (Tim Curry), assigns each guest a colorful name: Mr. Green (Michael McKean), Col. Mustard (Martin Mull), Mrs. Peacock (Eileen Brennan), Professor Plum (Christopher Lloyd), and Miss Scarlet (Lesley Ann Warren).
Before watching, I checked reviews. The critics were not kind, with most concluding that
the game was more fun than the movie.
Rotten Tomatoes said: "A robust ensemble of game actors elevate Clue above its schematic source material, but this farce's reliance on novelty over organic wit makes its entertainment value a roll of the dice."
Translation? The "plot" doesn't make sense, the jokes are of the boob, dog poo, and rimshot variety, and it could have been funnier. What does makes the film fun? The stellar cast flinging dignity out the window and giving the less-than-stellar material the old college try, plus three different endings.
Why three endings? Different versions of the ending ensured movie audiences wouldn't be able to give away the solution to the murder. (The streaming version has all three endings.) Though the solution brought to mind Raymond Chandler's take down of Murder on the Orient Express ("only a halfwit could guess it"), I had to admire the writers.
Three endings! Granted, they were wildly, manically convoluted endings. But every writer knows devising one satisfying ending is hard work. Three? The movie isn't Oscar material, but I gave Clue four stars for effort.
Have you played Clue? What shows and movies have you been bingeing lately?
*Parker Brothers sold Clue to Hasbro. In 2016, Hasbro replaced Mrs. White, the housekeeper, with Dr. Orchid, a scientist specializing in plant toxicology. https://www.thewrap.com/clue-mrs-white-dr-orchid-hasbro/
Shari Randall is the author of the heartwarming and humorous Lobster Shack Mystery series. The first,
CURSES, BOILED AGAIN
, won the Agatha Award for Best First Mystery.
https://www.thestilettogang.com/wp-content/uploads/2020/06/clue.jpg
226
320
The Stiletto Gang
https://www.thestilettogang.com/wp-content/uploads/2022/03/TheStilettoGang-logo-09.png
The Stiletto Gang
2020-06-19 00:00:00
2022-07-05 17:27:23
Clue – the Movie