Author Kay Kendall & her bunny Dusty
I wonder if you, dear readers,
are old enough to recall an expression from back in the day—sometime in the
80s—when we said this: "Well, color me _____."
That saying no doubt linked to
having your colors done. When this was all the rage, I'd walk into a clothing store
and a saleswoman would often ask or state…"Are you a summer?" "You must be a
winter."
Myself, I skipped the color consultants, figuring out my best colors were
those I wore when friends said, "You look good in that." (A magazine article
advised that was the easier way.)
I hark back to that time now,
and to that expression, since I wish to state two things:
Color me
thrilled
+ Color
me
fall
.
My name is Kay Kendall, and as a debut mystery author, I'm thrilled to be joining the
Stiletto Gang and doubly delighted that two previous posters were
rhapsodizing about my favorite season, fall.
Last week Dru Ann Love asked what
readers' favorite things were about the autumnal season. I will share mine now,
if a bit belatedly. It is the colors of fall that most beguile me.
Oh my, there is that word again. Colors. The trees are
vivid, in some falls more than others of course, but their leaves seem to come
alive in the crisp air and in the slanted light. Sunshine itself has a
different radiance in the fall. The sun's light is not harsh, not coming
straight down from the sky but aslant. This light is softer and bathes things
in a kinder glow.
Even in south Texas where I live, where signs of autumn aren't as profuse as in other parts of the US, fall is still my favorite
season. The light changes even here; the air cools some, gets a bit less
humid. The trees, however, rarely turn to orange and red. It's estimated that once every seven years or so this corner of Texas will have some
fall color. That happened my first season here. I thought it would happen each time October came around thereafter. But nope, no such luck.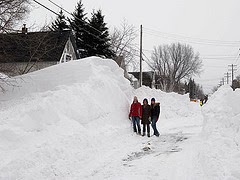 Fall of course is a prelude to winter, which I no longer
dread. Being married to a Canadian, I spent fifteen long winters in Ontario.
Not for the faint of heart. And mind you, those years were before global
warming altered things. Now in Texas I can look forward to the dark velvet
nights of winter when holiday lights shine, and they do not bounce off snow
banks down here. Hooray. As The Husband is fond of saying, "You don't have to
shovel heat and humidity."
My having lived in Canada explains why my debut mystery, Desolation Row, is set in Toronto. I
learned a lot about our peaceful neighbor to the north and in my book treat it
as a foreign country, not the fifty-first state that Americans often assume it
is. But I have plenty of time to get into all that in the months to come.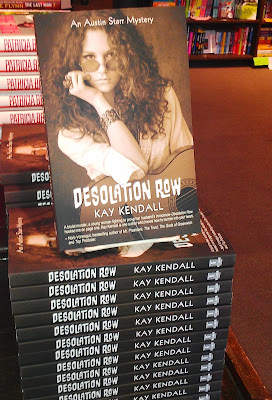 With my first post this fall, I start on my journey as a
member of the Stiletto Gang and look forward to many, many seasons to come of
sharing thoughts with you and the other gang members.
I'm just glad that it's not a requirement that we wear
stilettos. At five foot ten, I've no need of extra height, putting it mildly.
My poor toes seem to shriek in horror whenever that Stiletto Gang logo pops up
on my computer screen. I assure my feet that never again will they be stuffed
into a tortuous shoe, a pointy-toed, high-heeled stiletto, all in the name of
glamour.
Have you given up anything since you left your teens,
twenties, or so on, and thereby become more comfy—if a pinch less glam? I
propose a new expression. Instead of saying "sadder but wiser," let's say "more
comfortable and wiser" as our years progress. What do you think?
https://www.thestilettogang.com/wp-content/uploads/2013/11/3abWeb-1.jpg
320
230
The Stiletto Gang
https://www.thestilettogang.com/wp-content/uploads/2022/03/TheStilettoGang-logo-09.png
The Stiletto Gang
2013-11-06 05:00:00
2022-07-05 18:28:38
Fall — And More New Beginnings!