Hello, Stiletto Gang, and thanks to my buddy, Joelle Charbonneau, for inviting me to chat with you today. I hate to get off to a bad start, but frankly, I have a bone to pick with all of you who wear stilettos—and now I see you've formed a gang?!!!
You see, I'm an unwillingly reformed shoe-aholic. I didn't even get to go through the twelve-step program. Pretty high-heeled shoes to me were an addiction. I'd buy so many pairs I'd hide them in the trunk of my car. That worked until my husband came in, arms full, and said, where do you want these?
He knew. He always knew… Let's call him my enabler.

Nothing could cure me. Well, until, I developed the gasp—bunion—and putting on pretty stilettos felt like I was wearing nails on the sides of my feet. Over the years, the heels got lower and lower, while the bunion got wider and wider. Just had surgery to correct it, and I've been off weight-bearing, going on six weeks. Slowly, I'm making my way back up to tennis shoes.
I should despise stilettos, right? Wrong. Seriously, it's my addiction. One of the women in my local chapter wears such beautiful pumps. Sparkly and shimmering those shoes of hers make me want to rush out and buy some to add to the boring, sensible ones in my closet. Alas, anything over two-inches would sit gathering dust.
Don't feel too sorry for me (I've already cornered that market). I now live vicariously through my characters. In DEADLY RECALL, my recently released Romantic Suspense from Bell Bridge Books, Eden Moran my protagonist wears the man-killer shoes I cannot. But…like a sponsor in A.A., I felt it only fair to warn my readers that heels aren't all that:
Excerpt of Deadly Recall and my public service warning . . .
Traveling at a fast clip in four-inch stilettos when you're calm was foolhardy. Walking in them when you're angry bordered on suicidal. Her thoughts must have transferred to her feet. Eden stumbled. And wouldn't you know it the good detective had hung around to witness. He reached out to steady her as Father Slater stepped out of the bridal room.
And . . .
Well, that was that, Eden thought, as she pulled into her covered parking space next to the commercial building that housed her loft. Using the Honda's trunk for support, she tugged off her heels. It might take a day or two to regain her spirits, but she'd damned well relieve her aching feet now.
End of Public Service Announcement
I may not be able to wear beautiful, sexy shoes anymore. But my heroines do. And another thing, for anyone who has ever met me, I've been blessed―or cursed―with Irish skin. I'm so fair that after one outing on a lake when I sunburned so badly I required medical care, the doctor said to me, "Will you face it. You're never going to be a Copper Tone baby."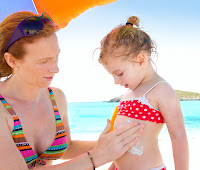 Dumb doctor. What does he know? All right. I didn't go to medical school and he did, I get it. Like my shoes, I've given up spending long hours in the sun. Or if I do, I wear hats, or I take an umbrella. I still find ways to satisfy my cravings. I give my characters the traits and abilities I've been forced to give up. And although I make them suffer in other ways, darned if they aren't able to tan. Don't worry, I do have a rather strong conscience – no matter how beautiful their skin tone, they always wear sunscreen.
So what about you? Is something off limits to you that you've found a way to live vicariously through? Isn't reading the best escape ever? I'd love to hear about your escapes, and to one commenter, I'll give away either a paperback or a digital copy of my new release, DEADLY RECALL. Thanks for having me, Joelle!
A terrifying memory is locked deep inside her. A killer wants to keep it that way.
Nine-year-old Eden Moran thought she was saying good-bye to her mentor that fateful day in St. Patrick's. She had no idea she'd witness the nun's demise, or that her child's mind would compensate. Now seventeen years later, Albuquerque cops have unearthed human remains, and the evidence points to Eden as being the key to solving Sister Beatrice's murder. When a hellbent cop applies pressure, Eden stands firm. She doesn't remember the woman. Unfortunately for Eden, Sister Beatrice's killer will do whatever it takes to keep it that way.
Donnell Ann Bell is a two-time Golden Heart® finalist who previously worked for a weekly business newspaper and a parenting magazine. Her debut novel The Past Came Hunting became an Amazon bestseller, reaching as high as #6 on the paid overall list and finaling in 2012 Gayle Wilson Award for Excellence, RWA's® Greater Detroit Bookseller's Best, and the 2012 Daphne du Maurier Award for Excellence in Mystery/Suspense. Deadly Recall, brought to you by Bell Bridge Books, is her second published novel. Learn more about Donnell at www.donnellannbell.com
https://www.thestilettogang.com/wp-content/uploads/2013/02/bigstock-blue-high-heeled-shoes-isolate-329071012.jpg
162
200
The Stiletto Gang
https://www.thestilettogang.com/wp-content/uploads/2022/03/TheStilettoGang-logo-09.png
The Stiletto Gang
2013-02-12 01:00:00
2022-07-05 18:34:05
Living vicariously through my characters