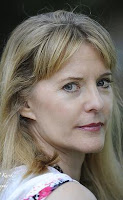 Sasscer Hill
Sasscer
Hill's horse racing mysteries have been compared with those of Dick Francis.
Her debut novel, Full Mortality, was
nominated for an Agatha and a Macavity. She has written additional novels
featuring Nikki Latrelle and also published a number of short stories.
Recently, she signed a multiple book deal with St. Martin's Press Minotaur
Books for a new series.
Welcome, Sasscer, to The Stiletto Gang. Tell us about
your background and how you began writing mysteries.
Hi, Paula, I'm honored to
have been invited to speak with The Stiletto Gang readers today. Mysteries have always been my favorite fiction genre. As a youngster, I
loved the Nancy Drew books and read all the Sherlock Holmes stories. I also loved horses, action, and
adventure. Naturally, I discovered Walter Farley's Black Stallion books and became addicted to them as soon as I could
read.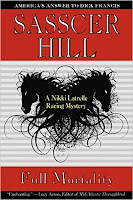 Since
mysteries were my favorite genre growing up, from Dick Francis to
Josephine Tey, if I was going to write, mystery writing was my natural choice. But
like so many of us, I got an office job after graduating from college (Franklin
and Marshall), and the mystery writing never had a chance until later in life. I
spent twenty years working in marketing and promotions for several
Washington, DC associations, and two different academic book publishers. I
managed to
start
a romantic suspense novel while I was still working, but when the novel was
completed—and soundly rejected—I soon realized I had a lot to learn if I wanted
to be a published author. I took classes at the Bethesda Writer's Center in
Maryland, near DC. After some eye-opening courses, I wrote FULL MORTALITY,
later published by Wildside Press.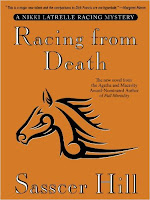 In the last few years, you've made significant changes
in your life by selling your family home in Maryland and moving to South
Carolina. How has that affected your writing?
I
lost most of 2012 and the beginning of 2013 to
selling the farm that had been in my family for over two hundred years, my
horses, and moving to Aiken and setting up a new home and life. Once I got
settled in 2013, I wrote the novel with the working title FLAMINGO ROAD and
more than 50,000 words of my WIP, THE DARK SIDE OF TOWN. My life is easier and
far more convenient since the move, giving me more time to write. I love living
in Aiken where I am surrounded by horses, clean air, and very little traffic or
crime.
What made you decide to write a new series?
I had no choice.
By the time I finished the third book in the Nikki Latrelle series for
the small Wildside Press, I'd learned New York publishers were not interested
in a new book in a series that was already in the hands of another
publisher–unless, of course, the series had been blessed with tremendous sales.
A word to the wise: you are unlikely to get tremendous sales when publishing with
a small press.
I was lucky enough to secure a
savvy, reputable agent who told me
if I wanted a bigger publisher, hopefully one of the "Big Five," I had
to start a new series. So I did, creating "Fia McKee."
Describe your new protagonist, Fia McKee. How is she
like and different from Nikki Latrelle?
Fia McKee is a thirty-two-year old agent for the
real life agency, Thoroughbred Racing Protective Bureau (TRPB.) She has more
life experience than twenty-three-year-old Nikki Latrelle, who was always
hoping to avoid involvement in altercations or stressful events. Fia, on the
other hand, strides in with her eyes open. She was a patrol cop and undercover
agent for the Baltimore City PD, and has already seen much of life's horrors.
Nikki Latrelle had a horrific
childhood, and wants only to leave all that behind her. Fia's childhood was
great until her mother walked out on her when she was fifteen and her father
was murdered. She became a cop because of the anger that burned inside her at
the injustice of her father's unsolved murder case.
James M. Jackson, Sasscer Hill, PGB, and Susan M. Boyer at 2013 SC Book Festival
Your second Fia McKee mystery just won
First Place in the Carrie McCray 2015 Competition for First
Chapter of a Novel.
Tell us about your journey in getting the two book
deal with St. Martin's Press, Minotaur Books and when the books will be
available.
As I write this, the St.
Martins contract is being finalized, and I do not yet have a publication date.
Believe me, Paula, you'll be the first to know!
I finished the manuscript with the working title FLAMINGO ROAD around
August of 2014. I started the second in the series in October of 2014. My agent
began shopping FLAMINGO ROAD in December of 2014. When an editor at St. Martins
Minotaur showed interest in FLAMINGO ROAD, but with some reservations about the
public's interest in a horse racing novel, I immediately went to work.
Jenny Milchman, Sasscer Hill (VP of Palmetto Chapter of SinC), and Suze Maze at 2015 SC Book Festival
Phone calls and research
provided me with statistics on the strong popularity of horse racing. I cited
things like NBC's unprecedented ten-year extension agreement to broadcast
rights to the Breeders Cup weekend races. I wrote about the recent ESPN poll
showing horse racing is the most popular non-team sport, beating out tennis,
boxing, and even NASCAR. How England's three-day Cheltenham Racing Festival had
the biggest attendance in history this past March. My agent sent all of it to
the St. Martins editor.
Then the stars aligned like
magic. I received the Carrie McCray award for the second book in my new series.
The Nikki Latrelle series drew an extraordinarily favorable review from
racing's leading turf writer and racing analyst, Steve Haskin. At the end of
this lovely endorsement he wrote, "Dick Francis lives!" And most amazingly, a
horse named American Pharoah broke a thirty-seven-year Triple Crown drought
wide open with 22 million television viewers, tremendous press, and a cover photo
on Sports Illustrated. I received an
offer the next day.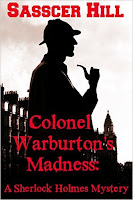 Wow, what a wonderful whirlwind! Now that you're busy
with the new series, will you have time to write more short stories?
What advice would you give to writers and aspiring
writers?
Learn your craft, but follow
your heart.
Always be kind and gracious–think
Hank
Phillippi Ryan. Remember, you
never
know if the person
you are talking to might hold the key to unlock a door you haven't been able to
pass through.
Know your market. Have a list
of who might buy your book.
Join groups, but don't let
them take too much of your time.
Nothing is as important as
writing.
Network, but do so within
reason. See previous sentence.
When you go to meetings note
(A) writers you like and admire. Also, note (B) writers you don't like or
admire. Tip: Be sure not to behave like the B writers!
Sasscer, thank you for being with us and many
congratulations on your much deserved success. We're looking forward to reading
your new series!
https://www.thestilettogang.com/wp-content/uploads/2015/07/Sasscer2BHill.jpg
200
123
Paula Benson
https://www.thestilettogang.com/wp-content/uploads/2022/03/TheStilettoGang-logo-09.png
Paula Benson
2015-07-20 00:00:00
2022-07-05 18:14:21
Sasscer Hill: Racing toward a New Series