By Kay Kendall

Donna Leon is the
author of 24 books in her mysteries series set in Venice, Italy. They feature
an Italian policeman, Commissario Guido Brunetti , as he maneuvers among
governmental corruption on all sides and tries to bring justice to a land where
few people expect it. Although Leon is American by birth, she has lived in
Venice for decades and knows the city well. Her books are especially popular in
Germany, Switzerland, and Austria. Although translated into 20 languages, her
work is not available in Italian
because, she says, she dislikes being recognized when she is in public and
considers it an intrusion.

The Grand Canal in Venice
Much of the charm of reading Leon's police procedurals comes from immersion
in another world so different in small ways from American or British policing. Brunetti
is of a philosophical bent, returning home to read the classical greats of
Roman literature to soothe his soul after viewing the worst that human
nature can do. At his apartment on Calle Tiepolo in the San Polo
district of Venice, he holds long discussions about life, literature, and various absurdities
of the modern world with his wife Paolo, a professor of literature at the local
university, and their two teenaged children, Raffi and Chiara. None of these
reoccurring characters age in these books. The first was published in 1992, Death at La Fenice, and the most recent
was published this year, Falling in Love.


Fans of slam bang thrillers may find these mysteries a bit languid.
For me, however, they offer a visit to a charming city that reeks of art and
antiquity. Brunetti understands human nature and is often sorrowful when he
uncovers the motives of killers. He dislikes the moneyed elite that has run
Venice for centuries, even though his wife Paolo is a daughter of Count Falier,
who lives in an elegant historic palazzo on the Grand Canal. Paolo would like nothing better than to sit all day reading and rereading the tomes of Henry James. Occasionally she too goes on a rampage for justice. She is no spoiled rich daughter, despite her being from ancient aristocracy.
Mystery author Donna Leon
I was once blessed to meet with Donna Leon when she visited
Houston for a book talk. Sitting by her side at lunch, I was delighted to soak
up her upbeat spirit she maintains despite the gloomy view of human nature evident
in her books. When asked about how she displays justice in her mysteries,
she stated that she believes Italians have no illusions, that they expect all politicians
to be corrupt. That given of Italian life she believes is "refreshing."
The interplay among the big personalities in Guido Brunetti's office is
fascinating. His boss Vice-Questore Patta dresses in Armani, hails from the
crooked and Mafia-ridden south, and lunches daily with Venetian bigwigs.

He may be shallow, vain, and a climber, yet he
is not all bad, nor is he evil. Patta's secretary Signorina Elettra left a
lucrative financial job to employ her computer wizardry for serving justice,
and Brunetti never hesitates to ask her to hack into someone's bank records.
The morals in these books are a little slippery, yet there is a consistent
decency to the actions of Brunetti, his family, secretary Signorina Elettra,
and Brunetti's friend on the police force, Vianello. An air of sad resignation and
melancholy resides in the pages of these unique mysteries.
If you have not yet discovered the books of Donna Leon, I
recommend them to you. You will learn much about the fascinating and labyrinthine
world of Venice, both the high life and the low, and of human nature and all its dark foibles. Her books have inspired my writing because they delve into
philosophical and moral questions as well as present a richly detailed account
of a famous city. When I finally visited Venice three years ago, I felt I
understood it better because of Donna Leon's writing. I have read all 24 books to date and look forward to the next in 2016. The only thing that makes me turn green with envy is when Donna Leon says she never does rewrites.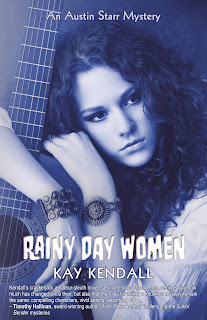 Kay Kendall
is a long-time fan of
historical novels and writes atmospheric mysteries that capture the spirit
and turbulence of the sixties. She is a reformed PR executive who lives in
Texas with her husband, three house rabbits, and spaniel Wills. Terribly
allergic to her bunnies, she loves them anyway! Her book titles show she's a
Bob Dylan buff too. RAINY DAY WOMEN published on July 7. It is the
second in her Austin Starr Mystery series. The audio-book will debut
soon.
http://www.amazon.com/Rainy-Day-Women-Mystery-Mysteries-ebook/dp/B00W2X5SCS
https://www.thestilettogang.com/wp-content/uploads/2015/09/Grand_Canal_Venice.jpg
212
320
kk
https://www.thestilettogang.com/wp-content/uploads/2022/03/TheStilettoGang-logo-09.png
kk
2015-09-16 03:30:00
2022-07-05 18:13:28
Mystery Writers Who Inspired Me—Part 2