By Lynn McPherson
In a time of chaos and stress, writing fiction can be challenging.
Everywhere we look, there is tragedy and loss. There are always stories of hope to be found, but sometimes the world can bring us down. Today I'd like to share some ideas about how and where to find inspiration for our creative minds.
The first one is to get outside. Leave all devices at home and just walk, or ride, or roll. Whatever your favourite way to enjoy the outdoors, now is the time to do it. What better distraction from all the heavy news and numbers of the day than bright flowers and budding trees? Taking time to feel the sun, the wind, even the rain is worthwhile. It makes you feel good and gets your blood flowing. If you want your mind to move, start with your body. I'm always a sucker for a walk in the woods. In the last few weeks, I've been lucky enough to spot deer, foxes, and even coyotes. What are your best sightings?
Another way to get excited about writing is by finding some new authors that excite you. Reading great books is invigorating and fun. I've been reading an excellent Canadian thriller author, Shari Lapena, whose stories have kept me up at night. Another new favourite is Tana French. Her stories are absolutely gripping, leaving me amazed at the detail she puts into her descriptive and lyrical passages. What about digging out some old favourites? I'm always up for reading one of my favourite classic cozy authors, Rita Mae Brown or the hilarious and educational Bill Bryson. They make me feel good and are always fun to revisit.
My final suggestion is to get up early. Why? It's the best time to work without distraction. My best work is always in the dark hours before sunrise. My coffee maker is set for five o'clock. I come downstairs to the only quiet time in my house, before the kids are up, the phone is ringing, and the news starts seeping in from the radio or television. It is my focus time. When the alarm goes off I'm not always excited to hear the ring, but I never regret the time it gives me to work on my writing and feel a sense of accomplishment first thing. It's a great way to start the day. Not everyone is an earlybird like me. But it's worth giving it a shot. After a week, if you're still bleary eyed and no further along in your manuscript or project, give it up and hit the snooze.
I'd love to hear more ideas and suggestions for finding inspiration. Feel free to send yours in.
In the meantime, set that alarm and get to bed early.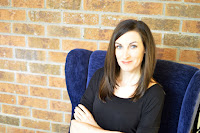 Lynn McPherson has worked for the Royal Canadian Mounted Police, ran a small business, and
taught English across the globe. She has travelled the world solo where her daring spirit has led her to jump out of airplanes, dive with sharks, and learn she would never master a surfboard. She now channels her lifelong love of adventure and history into her writing, where she is free to go anywhere, anytime. Her cozy series has three books out:
The Girls' Weekend Murder
and
The Girls Whispered Murder,
and The Girls Dressed For Murder
.
https://www.thestilettogang.com/wp-content/uploads/2020/05/coyote.closeup.backyard.jpg
320
180
The Stiletto Gang
https://www.thestilettogang.com/wp-content/uploads/2022/03/TheStilettoGang-logo-09.png
The Stiletto Gang
2020-05-26 03:00:00
2022-07-05 17:28:07
Finding Inspiration…