By Shari Randall
When she beta-read my last book, a friend told me that I seemed more interested in describing houses and settings than I was in describing people. At first I was taken aback, but after reflection, I saw her point.
I adore all those tv shows about houses – buying houses, selling houses, decorating houses, rehabbing houses, even haunted houses. With my husband's military career, we've bought and sold plenty of houses. I love a good house tour or decorator showcase. Even dollhouses fascinate me. When I was a little girl, my favorite toy was my Barbie Dream House. Although my kids flew the nest years ago, I still have custody of their dollhouses and, sorry kids, I don't think you're getting them back.
Why do houses intrigue me so? Perhaps a psychologist could explain. Maybe the dollhouse my dad built for me and my sisters, a replica of our own red Cape Cod home, set me on this path.
Perhaps homes reflect the people in them and the writer in me has stumbled upon a different form of characterization? What can I say, houses inspire me.
With COVID, I haven't been able to travel to scout potential story locations and buildings as much as I'd like. Lucky for me that my corner of Connecticut is full of intriguing places, places that fire my imagination and will make great settings for my books.
One of my characters likes to "collect castles" and so do I. Gillette's Castle, set on a hill called the Seventh Sister overlooking the Connecticut River, is one of my favorite places to visit. Designed by William Gillette, an actor famous for his portrayal of Sherlock Holmes, the castle's décor, construction, and grounds reflect the eccentric brilliance of its owner. This place inspired another pocket-sized castle in the second, as-yet-untitled book in my Ice Cream Shop Mystery series.
Here's a charmer that is slated to be the childhood home of the main character in Ice Cream Shop Mystery #1, The Rocky Road to Ruin.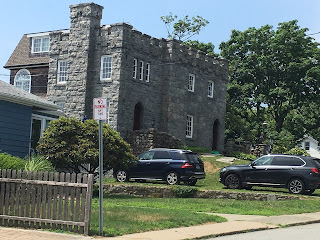 This mini-castle is tucked into a neighborhood a block from the ocean. Not your typical beach house, is it? I can only imagine the character who built this place. I feel a story coming on!
Writers: People or places – which do you find easier to describe? Readers: Are you as crazy about real estate as I am?
Shari Randall is the author of the Lobster Shack Mystery series from St. Martin's Press. The first in series, CURSES, BOILED AGAIN, won an Agatha Award for Best First Novel. The first in her new Ice Cream Shop Mystery series (written as Meri Allen), THE ROCKY ROAD TO RUIN, will be published on July 27, 2021.
https://www.thestilettogang.com/wp-content/uploads/2021/04/GilletteCastle.jpg
240
320
Shari Randall
https://www.thestilettogang.com/wp-content/uploads/2022/03/TheStilettoGang-logo-09.png
Shari Randall
2021-04-16 00:00:00
2022-07-13 17:59:39
WANTED: 3 BR, 2 BATHS, LOTS OF STORY INSPIRATION