By Barbara J Eikmeier
I've become a Podcast junkie. It happened rather innocently when, last September, I had eye surgery. For the first 48 hours post-op I had to alternate ice packs 20 minutes on and 20 minutes off while awake.  Then I switched to warm compresses for 20 minutes four times a day for another 3 weeks.
In the beginning I felt agitated thinking about all the work I had waiting for me. I would recline on the sofa and force myself to breathe in and out. With both eyes covered in ice packs I couldn't even watch the clock, so I set a timer on Alexa. Then I proceeded to pester her by asking how much time was left on the timer.
I tried listening to music. At least the music calmed me. My eyes hurt, especially when I looked up to read a computer screen. Looking down, however didn't hurt. That meant I could work at my sewing machine, which started a new routine, 20 minutes of sewing, alternating with 20 minutes of ice packs. I set the timer. It was a slow way to make a quilt with forced breaks for ice packs every 20 minutes.
By day three I had resigned myself to the fact that being home for three weeks recuperating was going to be a total bust in productivity. Then I saw an email from The Writer's Colony at Dairy Hollow in Eureka Springs, Arkansas, (I read it on my phone with my eyes cast down during one of my 20 minutes off cycles.) I've had three residencies at Dairy Hollow and enjoy following them on social media and email. The message contained a link to their latest podcast, Write Now. By now I was onto the warm compresses, which, by the way, were much more comforting than ice on my eyes! With a podcast to concentrate on, the time seemed to fly. Before I knew it Alexa was chiming that my timer had ended.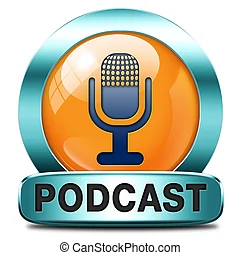 My eyes are fine, my travel has resumed, my to-do list, as usual, has too much on it, but now, I have this new love of podcasts. I got a set of wireless ear buds and listen to podcasts on the stationary bike at home, or while walking the track at the nearby high school. I listen to podcasts while lifting weights at the gym, while sewing, and while waiting in airports. And I'm learning so much!
My favorite remains Write Now where I've "met" so many interesting authors. I especially enjoy the early episodes that aired during the "stay home" part of the pandemic. I recently listened to Stiletto Gang's very own Bethany Maines in the Plotter vs Pantsers show down.
I'm learning French online through Duolingo.  Now I listen to stories in French on the Duolingo podcast! I wish I could tell you it's improving my French, however I listened to a great story about the most famous boulangeries in Paris! If I ever go I'll take my French speaking 7-year-old granddaughter with me to do the talking!
I listen to podcasts about quilting, health and wellness and writing, of course, all during time that my brain would otherwise be idle. Do you listen to podcasts? Do you have a podcast? I'd love to hear about your favorites!
Barbara J. Eikmeier is a quilter, writer, student of quilt history, and lover of small-town America. Raised on a dairy farm in California, she enjoys placing her characters in rural communities.
https://www.thestilettogang.com/wp-content/uploads/2023/03/podcast-listen-audio-music-or-audiobook-live-stream-webcasting-picture_csp20116715.webp
255
240
Barbara Eikmeier
https://www.thestilettogang.com/wp-content/uploads/2022/03/TheStilettoGang-logo-09.png
Barbara Eikmeier
2023-03-15 10:13:26
2023-03-15 10:13:26
Hooked on Podcasts