Yesterday, I cleared out my mother's last storage space, and now a dozen boxes and the same number of overflowing paper sacks are stacked three deep in my living room, which now resembles the local Goodwill store. I've given away half the stuff, but the things that slowed me down are choosing the special items I want to give to relatives and friends, and a stack of old magazines: Look, Life, Time, and The Saturday Evening Post.
Each publication provides a fascinating glimpse into what the world was like decades ago. Mom was very particular in what she saved. History-changing movements like the U.S. political climate and space exploration were high on her list, as well as social change, especially reflected in the magazines from the '60s.
The Saturday Evening Post from October 17, 1959 is the earliest issue. Nine articles featured everything from the changing role of the family doctor to a profile of F.D.R. There were four short stories and two serials in that issue, too, including a mystery by Erle Stanley Gardner. What a writer's market it was!
The most recent issue is Life, from January, 1983 which reviewed the most meaningful events from 1982 and covered conflicts in Central America, the Middle East, Poland, Iran and Afghanistan. Sound familiar?
But, the advertising! Just one peek at what was new and cool back then shows how different our world is today. Here are a few ads for your enjoyment:
Exciting and New!
Will it work with my IPhone?
Who needs Google maps?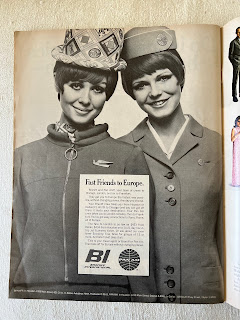 Braniff and Pan American. Long gone.
The convenience of Siri and Alexa is breathtaking, offering information about almost anything in an instant. And we no longer have to plug a lightbulb into a camera to take a snapshot. Too bad we haven't made much progress on more serious problems that have plagued us for decades.
Bad news aside, at least good old Speedy still has a solution for our everyday aches and pains. Plop plop. Fizz fizz!
Samantha Newman Mysteries including
The Body Business,
The Body Next Door
The Body in the News
https://www.thestilettogang.com/wp-content/uploads/2022/05/IMG_4454.jpeg
300
400
Gay Yellen
https://www.thestilettogang.com/wp-content/uploads/2022/03/TheStilettoGang-logo-09.png
Gay Yellen
2022-05-17 02:00:00
2022-07-05 16:56:02
Look! Life! Time… and The Saturday Evening Post