By Kay Kendall
When I write, my dog Wills sleeps on the floor beside my
chair, with his head resting on my foot. He prefers my lap, but he makes do
with my foot as second best. He is a cavalier King Charles spaniel, a breed
preferred by royalty as "comfort" dogs in Western Europe beginning five
centuries ago.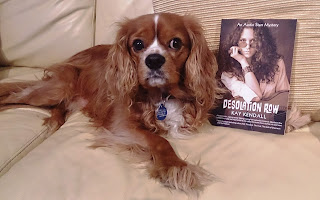 HERE IS WILLS KENDALL, age 6.5 years old.
Portraits of the royal houses of Spain, France, and England
often include depictions of these little spaniels. The earliest portrait including one of these small spaniels was painted by Titian in 1538.
Queen Victoria's first dog
was a King Charles spaniel. His name was Dash, and she doted on him. Dash is
included in the television version of the young queen's life now showing on PBS. Since
these dogs have spent 500+ years doting on their royal masters, it pleases me
to giggle and think of my feet as sort of royal.
My husband Bruce and I have rescued rabbits for more than
twenty years. Our current three bunnies—Midnight, Smokey, and Jack—are jealous
of Wills. They are never allowed to frolic in the writer's lair, my name for
the hovel of a messy bedroom where I write. The three long-eared wonders reside
next door in my husband's study. Sometimes Jack escapes, and then he always
hightails it down the hall and into my lair. When Jack sees one of us coming to extract him from the lair, he squeezes behind furniture to hide. Rabbits can be very stubborn…and always, always cute. (Wills insists that I add that he is also extremely cute. Indeed, he is.)
While I write, I often listen to classical music. Bach,
Vivaldi, Mozart, Chopin and their like. The volume must stay subdued, otherwise
I get drawn too far into the glorious melodies.

I cannot write while listening to music with
singing. The words fight with those in my head that are trying to make their
way out to paper.
Authors are often asked how much outlining they do before
they begin to write their books. For my first two mysteries—DESOLATION ROW and
RAINY DAY WOMEN—I had the arc of the story, but no details. I knew who committed
the crimes and why, but not exactly what the other suspects had done to bring
scrutiny to themselves. I made up those details as I went along, as my
characters grew on the pages.

I always know the personalities of my characters ahead of time
and let them fulfill their destinies. From them come the plot twists and turns. It's tricky, throwing in red herrings
here and there. An author must play fair and drop a few hints, but not give away the
whole game. Readers want to be fooled, although they love trying to guess who
done it.
I'm now in the midst of writing my third mystery. I have
planned its plot out more than I did for the first two, but I don't claim to be
a voracious outliner. Some authors I know go into such detail that their
outlines end up filling 30 pages. I used to feel guilty not doing that. Now,
however, I have heard enough bestselling writers say that it is fine to do
whatever works for the individual writer. The guilt is banished, pretty much.
I edit as I go along. I cannot bear to rush through a first
draft, leaving ugly sentences in my wake. Of course, after a sort-of first
draft is done, I return and do umpteen drafts all over again. All the while, I
berate myself for not writing perfect sentences the first time through. One of these days I
need to post a sign on my corkboard in front of me that says . . . ALL GREAT WRITING
COMES FROM REWRITING. In short, I am not a fast writer. I surely do wish I were though.

~~~~~~~
Want to read the first 20 pages of Kay Kendall's second mystery, RANY DAY WOMEN? Go to her website http://www.austinstarr.com/ That book won two awards at the Killer Nashville conference in August 2016—for best mystery/crime and also for best book. Her first novel about Austin Starr's sleuthing, DESOLATION ROW, was a finalist for best mystery at Killer Nashville in 2014. Visit Kay on Facebook https://www.facebook.com/KayKendallAuthor
https://www.thestilettogang.com/wp-content/uploads/2017/01/Wills2B2.jpg
200
320
kk
https://www.thestilettogang.com/wp-content/uploads/2022/03/TheStilettoGang-logo-09.png
kk
2017-01-18 03:30:00
2022-07-05 18:03:02
What's Doing in My Writer's Lair