I met Susan F. Craft when
I joined the local Inkplots critique group. She spent a lifetime wanting to be
a writer. She has said, "I
cannot remember a time when I did not want to write. Somewhere in my attic I
have a book, The
Mystery of the Whistling Cave, which I wrote and bound myself when I was eight and
enthralled with Nancy Drew."
She developed a special
love of history in school and, according to her bio, "researches her novels with the same excitement as Alan
Quartermain hunting for King Solomon's Mines and with the persistence of Lewis
and Clark enjoying the chase when a clue leads her from one 'treasure' to the
next, to the next." I have seen her give fascinating
presentations where she brings a treasure chest of items she has acquired in
research efforts. She enthralls audiences telling about her discoveries.
At the University of
South Carolina, she received a
degree in Broadcast Journalism, then had a distinguished 45-year career that
included working for SC Educational Television, the SC Department of Mental
Health, the SC College of Pharmacy, and the SC Senate. Her first novel, which
she self-published with her own cover art, was A Perfect Tempest, a civil war story that took place on the grounds
of the State Mental Health Hospital, known at that time as the South Carolina
Lunatic Asylum. Then, a small regional publisher released her Revolutionary War
romantic suspense, The Chamomile, which
also featured her cover art and won the respected
Southern Independent Booksellers Alliance's Okra Pick Award in 2011.
This year, in January and September,
Lighthouse Publishing of the Carolinas released the two post-Revolutionary War sequels,
Laurel and Cassia, as well as acquiring the rights for The Chamomile and offering them as the Xanthakos family trilogy. In
addition, Lighthouse employs Susan as an editor for other books, including The Yuletide Angel, by Sandra Ardoin.
In doing research for The Chamomile, Susan contacted members
of the Long Riders' Guild to learn more about a lengthy journey on horseback,
which led to the organization asking her to write
A Writer's Guide to Horses
, available on the website of the Long Riders' Guild Academic
Foundation,

www.lrgaf.org

. The
Guide
provides authors with comprehensive information to help them
accurately portray horses and riders in their works.
Susan
is married Rick, her high school sweetheart and now husband of more than 45
years. They have two wonderful adult children, an adored granddaughter, and a
very special granddog named Steeler, who became the inspiration for a
protective mastiff character in Cassia.
Like
many people, Susan has a bucket list. "So far, I have screamed my way down the
Nantahala River whitewater rafting (although the screaming part was not on the
list); I parasailed (breathtaking experience); I scheduled a hot air balloon
ride, which, sadly, was cancelled due to bad weather (this greatly relieved my
sister whom I had cajoled into going with me); and I fulfilled a lifelong dream
to learn how to play the drums by joining the University of South Carolina New
Horizons Band. The clarinet is next, I think, as the percussion instruments are
too heavy to haul around. I want to visit at least ten national parks, take a
mule ride through the Grand Canyon, ride a gondola in Venice, and visit a
winery in Tuscany, Italy."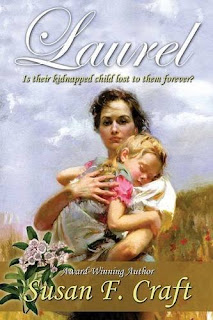 Represented by Linda S. Glaz, Hartline
Literary Agency, Susan has become a dear friend who always is ready to offer
support and encouragement. I'm celebrating her great success and looking
forward to reading her future endeavors.
https://www.thestilettogang.com/wp-content/uploads/2015/09/Susan2BF.2BCraft.jpg
188
250
Paula Benson
https://www.thestilettogang.com/wp-content/uploads/2022/03/TheStilettoGang-logo-09.png
Paula Benson
2015-09-21 00:39:00
2022-07-05 18:13:24
Celebrating Author Susan F. Craft