Special Guest Post by Debra Sennefelder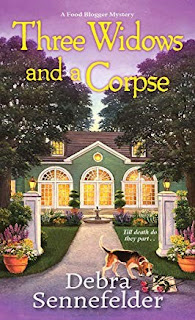 I'm so excited to be here today to share with you the three reasons why I love writing about a food blogger. There's a piece of advice that new writers hear repeatedly and that is to write what you know. It makes sense on so many levels, and when I sat down to write the first Food Blogger mystery, I knew I wanted it to be culinary-themed, but I wasn't sure what Hope's job would be. Then it hit me – she's a food blogger. Now, three books later, there's no doubt in my mind that I chose the right career for Hope.
So why did I chose to make Hope a food blogger?
The first reason is that I know the job inside and out. Nine years ago, I launched a food blog with a handful of recipes, a few cookbooks I loved and wanted to review and a desire to do something different.
I found a community of bloggers, spent my nights and weekends cooking, baking, and photographing. It was a lot of work, especially since I had no photography skills. But I loved the blog, and whenever I got a new comment, I was so excited. Fast forward to 2015 when I sat down to write the first Food Blogger mystery. I understood what Hope would be juggling, how she had to balance her personal life with her public life on her blog, and how she had to hustle to earn money. Back when she started her blog, ads were her primary income producer. Now she has created her own e-products to sell to her readers, and she's doing sponsored posts for brands, plus some other things to earn her living.
The next reason I love writing about a food blogger is the behind-the-scenes tasks that go on when writing the book. Keeping up to date on all things blogging is fun, but what's crazy fun is developing the recipes for the books. This is a perk I love because the kitchen is my favorite room in our home and I get to whip up yummy meals and desserts all in the name of writing. By the way, my neighbors and friends love it when I'm working on recipes for upcoming books.
Another reason why I enjoy writing these books is that I get to explore the relationship between Hope and her readers/followers, and it intrigues me. I don't want to say too much about this because I intend to explore this dynamic in a future book. However, what I can say today is that I'm fascinated by the new relationships we're developing online. Hope has thousands of followers, and because with each post/recipe, she shares her life, her home and her loved ones (with their permission of course) her readers feel like they know her. Now, not every reader will love her, but maybe a few may love her too much. Either way, it's a fascinating dynamic to explore.
One of the great things about the cozy genre is that we get to learn about different careers and hobbies through those books. With my background, I'm able to sprinkle little details about Hope's job and hopefully give readers a glimpse of what it looks like to have a food blog.
Bio:
Debra Sennefelder loves to read – mystery books being her biggest passion. When she is not reading, she enjoys cooking and baking and is a former food blogger. Born and raised in New York City, she now resides in Connecticut with her family. She is the author of the Food Blogger and Resale Boutique Mystery Series.
Links:
About THREE WIDOWS AND A CORPSE: Third book in the Food Blogger Mystery series available on October 29, 2019.
Food blogger Hope Early finds one item not on her scavenger hunt list—a dead husband . . .
Between developing her food blog, Hope at Home, and choosing low-cal recipes for a feature in Cooking Now! magazine, Hope has a full plate. Still, she's never too busy to compete in a Jefferson, Connecticut, tradition—the town's annual scavenger hunt.
But as she races with her team to check off the next item, Hope discovers a grisly surprise—the body of shady real estate developer Lionel Whitcomb, shot in a parking lot. His wife Elaine, who's also in the hunt, gasps and nearly faints. But two other women on the scene cry out that their husband is dead.
It turns out this louse of a spouse was more than a little lax in legally divorcing his former wives. Did one of them put a bullet in the bigamist? Number one suspect and number three wife Elaine begs Hope to investigate. Now Hope is on a new kind of hunt—for a cold-hearted killer and triple widow-maker . . .
Includes Recipes from Hope's Kitchen!
Question for Readers:

What was the career/hobby that you've read about in a cozy mystery that unexpectedly piqued your interest and you wanted to learn more about it?
https://www.thestilettogang.com/wp-content/uploads/2019/10/3WidowsImage.jpg
320
195
The Stiletto Gang
https://www.thestilettogang.com/wp-content/uploads/2022/03/TheStilettoGang-logo-09.png
The Stiletto Gang
2019-10-18 00:00:00
2022-07-05 17:35:18
Why I Love Writing About a Food Blogger