Here it is again, a new year. A fresh start, and yet, a hint of gloom still permeates the air. We've all had to navigate through and adjust to new realities. How are you managing?
Whenever I'm struggling, I lean on the philosophy of someone I fell in love with years ago:
Vincent Van Gogh.
I was in my twenties and slightly adrift when I picked up Dear Theo, a compilation of Vincent's letters to his brother. A few years earlier, I had visited the museum in Amsterdam dedicated to him. Though he wasn't my favorite painter at the time, his spirit spoke to me through his art and grabbed onto something deep inside.
Van Gogh's letters are an almost-daily account of his struggles. They vividly detail his miserable existence. Yet through it all, he kept working to be better.
The one I'll never forget
A letter he wrote in 1884 has kept me going through rough moments in my personal and my writing life. Here's a bit of it, lightly paraphrased and edited for brevity:
One mustn't be afraid to do something wrong sometimes… You don't know how paralyzing it is, the idiotic stare from a blank canvas that says you can't do anything. Many painters are afraid of the blank canvas. But the blank canvas is afraid of the truly passionate painter who dares…
Life itself likewise turns toward us an infinitely idiotic and meaningless blank side. But however meaningless life appears, the person of faith, of energy, of warmth, doesn't get discouraged. He steps in and builds up…
Substitute an author's blank page for the painter's canvas, and this is my daily inspiration.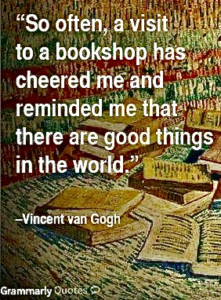 Did you know that Vincent was also a book lover? Here's this: It is with the reading of books the same as with looking at art. One should, with assurance, admire what is beautiful.
And this: So often, a visit to a bookshop has cheered me and reminded me that there are good things in the world.
And on another subject, this: A woman is not old so long as she loves and is loved.
Yes, he led a tragic, troubled life. Worse than most of us can imagine. But he never stopped wanting to capture truth and beauty in his art and his life.
Perhaps we all could take a lesson from Vincent, dare to face the blank canvas that is 2023, and choose to make this year into our own work of art.
Wishing you a year full of love and good health. And good books!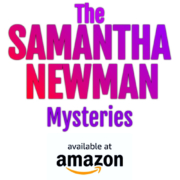 Gay Yellen writes the award-winning
Samantha Newman Mystery Series:
The Body Business, The Body Next Door,
and coming soon in 2023: Body in the News!
https://www.thestilettogang.com/wp-content/uploads/2022/09/Gay-Yellen.jpg
1617
1155
Gay Yellen
https://www.thestilettogang.com/wp-content/uploads/2022/03/TheStilettoGang-logo-09.png
Gay Yellen
2023-01-10 05:18:12
2023-01-09 22:44:54
The Letter I'll Never Forget