by Sparkle Abbey
We've survived the second most brutal Iowa winter in history. We've also sprung our clocks forward, managed to escape April Fool's Day unscathed (we wish we would have thought to keep all of our Amazon boxes for an April Fool's prank!), and are ready to celebrate National Walk Around Day. Never heard of it? That's okay, we hadn't either. Living in Iowa, we're used to walking around snow piles, icy parking lots, and Grand Canyon-sized potholes so it seemed like an excellent National Day to talk about.
We conducted a little research about Walk Around Things Day. . . .and by "a little," we mean there wasn't much information to find. We did learn the day can be celebrated literally and figuratively.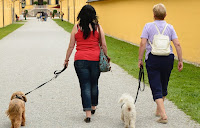 In the literal sense, one can take advantage of the day to benefit your health. Up your activity by walking your dog around the block or walking around the office building. Make sure you complete a full circle otherwise you haven't actually "walked around" anything.
As for figuratively, if you're looking for a reason to procrastinate on dealing with a work situation or an uncomfortable conversation, today is a valid excuse to put it off for another twenty-four hours. Living in the Midwest-nice culture, it's not uncommon for people to "walk around" difficult conversations. You wouldn't want to hurt your co-worker or neighbor's feelings, would you? Which is probably why, as writers, we love to explore characters who tackle their problems head-on, who are unafraid to express their opinion, and speak before thinking.
We plan to celebrate the day both figuratively and literally. What about you?
Oh, one last thing. In our research, we discovered Sunday is National No Housework Day. Shouldn't National Walk Around Things Day come after No Housework Day? Just a thought.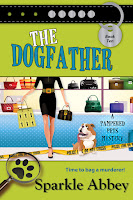 Sparkle Abbey is actually two people, Mary Lee Woods aka Mary Lee Ashford and Anita Carter, who write the national best-selling Pampered Pets cozy mystery series. They are friends as well as neighbors so they often get together and plot ways to commit murder. (But don't tell the neighbors.) They love to hear from readers and can be found on Facebook, Twitter, and Pinterest, their favorite social media sites.

Their most recent book is The Dogfather, the tenth book in the Pampered Pets series.

Also, if you want to make sure you get updates, sign up for their newsletter via the SparkleAbbey.com website.
https://www.thestilettogang.com/wp-content/uploads/2019/04/Winter2B2019.jpg
200
196
The Stiletto Gang
https://www.thestilettogang.com/wp-content/uploads/2022/03/TheStilettoGang-logo-09.png
The Stiletto Gang
2019-04-04 01:00:00
2022-07-05 17:40:08
#WalkAroundThingsDay