By Evelyn David
I don't usually count on inspiration in my work. I count on the belief that if I show up, keep my butt in the chair, hold a potato gun to my head, and make myself sit there, something writerish will happen.
I'll get some words down on paper, or the on screen.
They will suck.
I love Anne Lamott. Her book on writing, Bird by Bird, captures perfectly the reality of being an author: the good, the bad, and the very ugly. First drafts, Lamott aptly points out, are by definition crappy. Out of the first 100 words written, you might like 10 – but that's 10 more than you had before. Maybe you'll like 15 of the next 100 words.Maybe not. But you make progress only if you actually write. And that my friends, is a point I had sadly forgotten.
What I should have remembered is what Thomas Edison once said: Success is 10 percent inspiration and 90 percent perspiration. And to quote one more truth from Mr. Edison: I am not discouraged, because every wrong attempt discarded is another step forward.
All of which may help explain what the two halves of Evelyn David have been doing since last Fall. Besides struggling with one miserable snowstorm after another; juggling work and family responsibilities; and celebrating some happy events in our lives – we've also been circling around a story that we couldn't quite nail down for months. And sometimes, the circling meant just plain ignoring it. Instead we chatted on Facebook; wrote blogs; played Scramble with Friends; ate chocolate.
Now the snowstorms, the work responsibilities, the family demands, even the chocolate, are all reasonable excuses for why we haven't written much more than grocery lists for the past three months. I can even rationalize that taking time off has given us a perspective on this story that was much needed. No doubt you often have to step back to see the big picture, what can be fixed, and what needs to be dumped pronto.
But 10 days ago, after a weekend of celebrating my son's engagement to a lovely young woman, and then bidding a tearful farewell as another of my sons and his family moved to Paris (Yipes), I finally sat down, reread the story, and chatted with the Southern half. What had in November seemed impossible to finish, suddenly didn't seem too hard at all. The kernel of the story was, pardon my pride, fantastic. And I discovered, dare I say it, it was fun to write again. I laughed out loud at some of our scenes. I fell in love, once more, with the world of Brianna Sullivan. I had missed her future mother-in-law Sassy Jackson, her best friend Beverly Heyman, her hunky fiance Cooper, and perhaps most of all, her bulldog Leon, despite his wonky digestive tract.
We had to rewrite, tweak, edit, revise, delete, and then write some more. But the end result, LEAVING LOTTAWATAH, is the story we always wanted to tell. For us, the essence of storytelling is compelling, believable characters. We think you'll find a new depth to Brianna Sullivan, psychic extraordinaire. We delve deeper into the life she has created for herself in the small town of Lottawatah, Oklahoma. There a murder mystery to die for (pun intended) and humor to make you laugh out loud.
Leaving
Lottawatah by Evelyn David is the eleventh book in the Brianna Sullivan
Mysteries series. A novella-length story, Leaving Lottawatah continues the
spooky, yet funny saga of reluctant psychic Brianna Sullivan who planned to
travel the country in her motor home looking for adventure, but unexpectedly
ended up in a small town in Oklahoma.
Things are
messy in Paradise. The happily engaged couple of Brianna Sullivan and Cooper
Jackson are anything but. Angry words set Brianna and Leon, her bulldog
companion, off on a road trip, but it's hard to run away from home if everyone
wants to come with you. Before she can leave town, Brianna is unexpectedly
joined on her travels by Sassy Jackson, her maybe ex-future mother-in-law, plus
Beverly Heyman and daughter Sophia, both still grieving over a death in the
family. Destination: A Psychic convention in America's most haunted hotel. But
they haven't reached their destination before Brianna is confronted by two
ghosts demanding help in capturing the serial killer who murdered them decades
earlier. Even more worrisome, another young woman has gone missing. It's up to
Brianna and her road crew to stop the serial killer from striking again.
Brianna has hard questions for the spirits surrounding her, and for herself.
Does she want to marry Cooper? Is it time to hit the open road again and leave
Lottawatah behind? Or will the ghosts of her past continue to haunt her
wherever she goes?

So please Enjoy, Enjoy! It's good to be back! And we're not planning on taking any more hiatuses. Snowstorms or not, we're writing!
Marian and Rhonda, the collective Evelyn David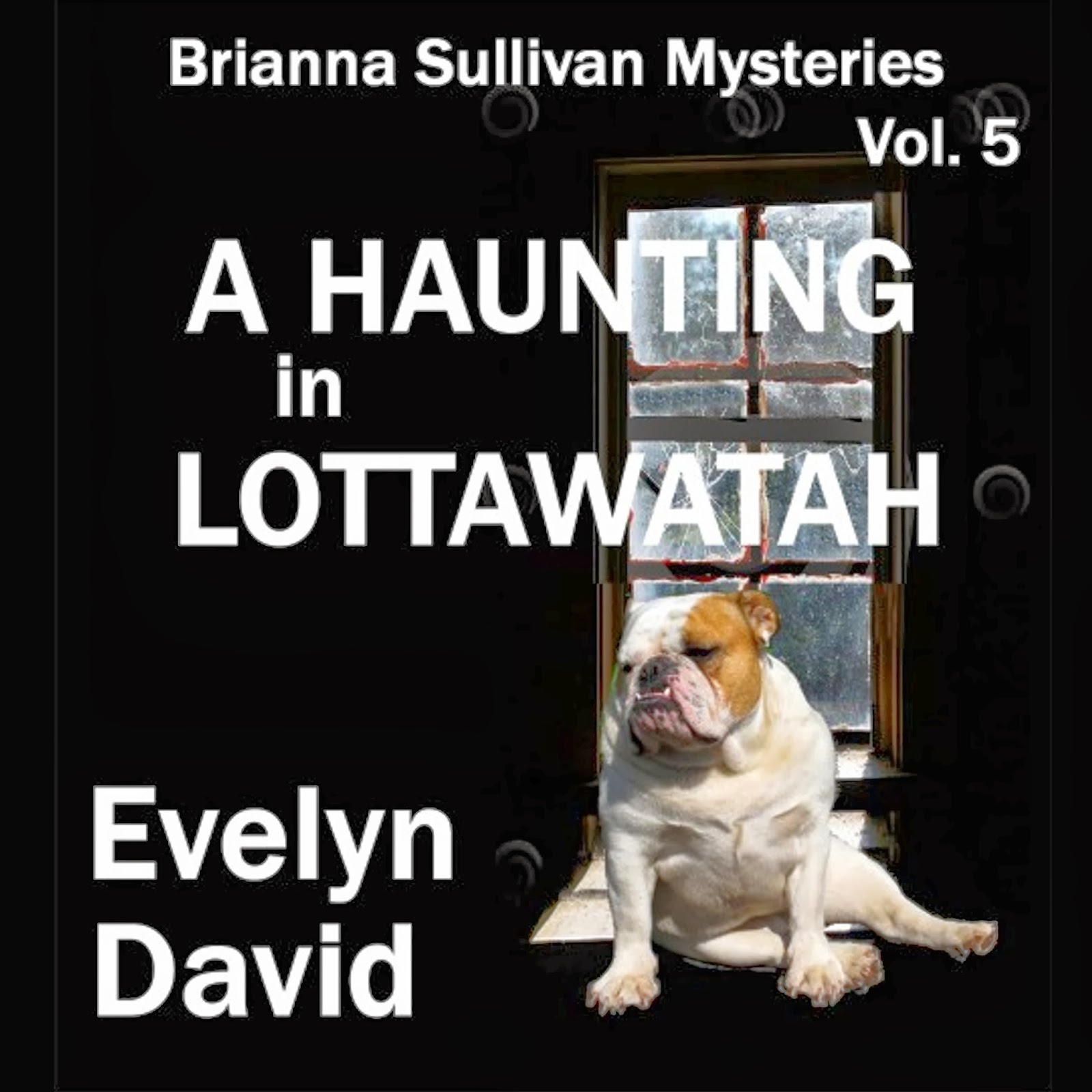 P.S. We're also delighted to announce that A HAUNTING IN LOTTAWATAH, the fifth book in the Brianna Sullivan series, is now available as an audiobook. Once again narrated by the fantastic Wendy Tremont King, A HAUNTING IN LOTTAWATAH proves that ghost hunting can be deadly.
P.S. Special shoutout to our friend Meg Mims. Check out her blog: www.megmims.com/musings
https://www.thestilettogang.com/wp-content/uploads/2014/03/LeavingLottawatah.jpg
1600
1600
The Stiletto Gang
https://www.thestilettogang.com/wp-content/uploads/2022/03/TheStilettoGang-logo-09.png
The Stiletto Gang
2014-03-10 05:00:00
2022-07-05 18:25:59
We're Baaaack