Find your next great read from one of our amazing authors.  From cozy mysteries and procedurals to thrillers to romance and romantic mysteries we've got the books you need to add to your To Be Read pile.
Want to learn more about our authors?  Check out the Gang here: thestilettogang.com/about-us/
Until Dead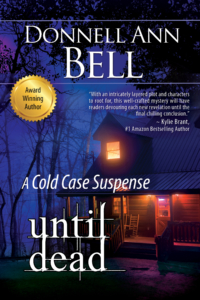 by Donnell Ann Bell
When Lt. Everett T. Pope is notified of an explosion in downtown Denver close to the judicial buildings, his first instinct is gas leak. No such luck. As Incident Command and Pope's own Major Crimes unit move in, he discovers he knows the intended victims—an Assistant U. S. Attorney—and Pope's former partner, now a private investigator, has died shielding the injured AUSA with his body.
Maverick
by Bethany Maines
Maverick Lacasse—shifter wolf, bank robber, rebel—didn't mean to take Deya Jasper with him on his way out of Littleton Texas, but fate had other plans. But as the two flee for California, vampires dog their every step, and both Deya and Maverick find themselves questioning if the unexpected bond they feel can withstand the dangers they face.
Release Date: July 12th
Guilty as Framed
by Lois Winston
A dead body in her driveway draws reluctant amateur sleuth Anastasia Pollack into the mystery of a decades-old cold case of the greatest art heist in history.
Release Date: September 6th