A Master Class in Mystery Writing
By Kay Kendall

Are you a fan of Laura Lippman's detective
stories or Megan Abbott's crime novels? Do you ever wonder how they manage to
draw you into a web of intrigue, book after book—holding you spellbound,
keeping you reading way past your bedtime? Lucky me, I got to learn some of
their secrets last Saturday in New Orleans.

That's where Laura Lippman and Megan
Abbott were joined by other award-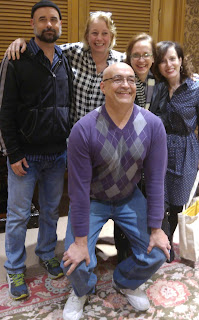 Back l-r: Bill Loefhelm, Laura Lippman,
Megan Abbott, Alison Gaylin.
Front: organizer Greg Herren.
Not pictured: Alison Gaylin
and moderator Susan Larson.
winning authors Alison Gaylin, Bill Loefhelm,
and Erica Spindler in presenting a seminar designed to teach the essential
skills needed to write a novel. In a program sponsored by Mystery Writers of
America, these five bestselling novelists instructed us participants how to
move from the idea stage all the way through to final editing. And clearly, they
know their stuff. The awards and accolades among them include the Anthony
Award, Agatha Award, Daphne du Maurier Award, Edgar Award, Nero Wolfe Award, Shamus
Award, Strand Magazine's Novel of the Year, and the International Thriller
Writers Award for Best Novel. Here are just a few of many points made by these talented
authors. <For more background on each author, see http://mysterywriters.org/wp-content/uploads/2015/10/Teacher-Bios-Website.pdf>
Megan Abbott began by suggesting ways to expand on
your book idea, confiding that her inspiration often comes from news items. She
doesn't
always begin at the beginning of a book, instead starting by writing
about what has inspired her—a murder, a rumored sexual encounter. She ran us through
exercises that got our creativity flowing.
Laura Lippman talked about the importance of proper
plotting and shared her method for diagraming plots. She said that if you get
stuck in writing your book, it usually means that you've taken a wrong turn in
your plotting, and you must fix it before you can continue. When she sees
something wrong in her diagrams, then she knows where the problem lies. "There are no
formulas," she said. "The only thing that carries over is that I have finished
writing a book before, so I figure I can do it again."
Erica Spindler discussed the use of setting and details to
ramp up tension. She quoted Stephen King, who said, "I write about the thing
under the bed." She said, "I write about the wolf in sheep's clothing, in other
words the friendly neighbor who turns out to be Ted Bundy." Details added to a
story must do one of two things—either effect one or more characters, or, move
the plot forward. So, identify and chop extraneous details.
Bill Loefhelm examined the critical area of character
development. "The trick to writing a successful series," he said, "is to create
characters that people want to return to. That is the most effective tool for
storytelling." One way of doing this is to take a tried-and-true one—think Sherlock,
Batman, Superman—and make the tired character new, fresh, twisted. Dialogue is
an important way to show character, but he cautioned not to overdo accents or
slang. A little goes a long way.
Alison Gaylin switched from discussing writing a book to
rewriting it. After your first draft is completed, she said to go back and do
these things. Drop clichés and tropes. Get rid of info dumps—dribble out crucial
backstory details throughout the whole book instead.
The seminar concluded with a discussion among the instructors,
moderated by Susan Larson, two-time chair of the jury for the Pulitzer Prize
for Fiction and book review editor for The
New Orleans Times-Picayune for 22 years. The focus was on the idea of a
muse as inspiration for writing. What stuck with me came from Bill Loefhelm,
who didn't buy into the muse concept. However, if there was one, he said she would
be like Rosie the Riveter, with her sleeves rolled up, ready to work with him
when he came to her, when he was willing to work hard on his writing.
Greg Herren organized this wonderful day of
learning. He is outgoing president of the Southwest Chapter of Mystery Writers
of America and an award-winning New Orleans author of two mystery series, among
his other writing activities. This program is called MWA-U, Mystery Writers of
America University. Find it online here —
https://mysterywriters.org/mwa-university/about-mwa-university/
~~~~~~~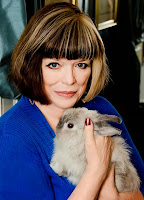 Kay Kendall's historical mysteries capture the spirit and turbulence of the
1960s. DESOLATION ROW (2013) and RAINY DAY WOMEN (2015) are in her Austin Starr
Mystery series. Austin is a 22-year-old Texas bride who ends up on the
frontlines of societal change, learns to cope, and turns amateur sleuth. Kay's
degrees in Russian history and language help
ground her tales in the Cold War, and her titles show she's a Bob Dylan
buff too. Kay lives in Texas with her Canadian husband, three house rabbits,
and spaniel Wills. In her former life as a PR executive, Kay's projects won
international awards.
https://www.thestilettogang.com/wp-content/uploads/2015/11/MWA-U2BNola.jpg
320
199
kk
https://www.thestilettogang.com/wp-content/uploads/2022/03/TheStilettoGang-logo-09.png
kk
2015-11-18 03:30:00
2022-07-05 18:12:10
A Master Class in Mystery Writing