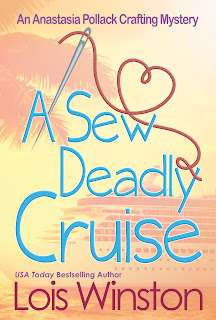 The Fork in
the Road by Lois
Winston
In 2003 when my
agent suggested I try my hand at writing a cozy crafting mystery (she knew an
editor looking for one), little did I realize how that suggestion would change
my life. At the time I was writing humorous contemporary romance and gritty
romantic suspense. I don't know if it was because I couldn't make up my mind or
if I possessed somewhat of a Jekyll and Hyde personality, but I found myself
straddling both light and dark worlds in my writing.
To be honest, I
hadn't read any light mystery since I'd consumed every Cherry Ames novel I
could get my hands on back in elementary school. I didn't even know there was
such a sub-genre as crafting cozies until one day when I was killing time and
decided to Google myself.
One of the hits
that popped up brought me to A Murderous Yarn by Monica Ferris. In the
book, a character walks into a needlework shop and asks the owner if she
carries any designs by Lois Winston. In my non-writing life, I had spent
decades designing needlework for needlecraft companies and publishers. I nearly
fell out of my chair! Was this merely coincidence? I know of a few other Lois
Winstons throughout the country, but it's certainly not a common name. Lois
Lane aside, Lois was never really all that popular, and Winston is more common
as a given name than a surname.
I contacted
Monica through her website to find out. No, it wasn't coincidence. Monica was
not only familiar with my designs but was a huge fan. She said she likes to
mention her favorite designers in her books. Pretty cool, huh?
Of course, a
few years later, having been asked to write a crafting cozy mystery, I needed
to immerse myself in the genre and started with Monica's books. I quickly
learned that crafting cozies usually include at least one craft or some craft
tips. This posed limitations on the types of crafts I could choose, due to e-book
and printing constraints.
Once I had read
dozens of crafting cozies, I felt comfortable enough to start writing my own. I
created Anastasia Pollack, the crafts editor at a women's magazine. With such a
career, I wouldn't be limited to featuring only one craft in each book should
the series sell and continue for multiple books. I could also work around the physical
limitations of print and e-books when it came to featuring designs.
I'm glad I made
that decision because I'm now up to nine books in the Anastasia Pollack Crafting Mysteries. There are also three connecting
novellas. In Assault with a Deadly Glue Gun, the first book in the series, I
featured several different crafts to give readers an indication that the series
would be a bit different from one-craft cozies. Subsequent books have featured
mop dolls, yo-yo crafts, decoupage, knitting and crochet, scrapbooking, glass
ball Christmas ornaments, and crafts made from recycled greeting cards. I chose
sewing crafts for A Sew Deadly Cruise, the newest book in the series.
Most of the
crafts in my series are designed for people with limited crafting experience.
Anastasia and I want our readers to feel confident they don't have to be Martha
Stewart to create something they'll be proud of.
Before I was
offered a contract for the Anastasia Pollack Crafting Mysteries, I sold two
other books, a rom-com (from my light side) and a romantic suspense (from my
dark side). With cozy mystery, I've been able to incorporate both sides of my
writing personality into one genre and am now firmly planted in the world of the
cozy mystery. I guess you could say I took neither the left nor the right fork,
instead forging a new path in-between the two.
How do you
feel when your favorite author is no longer writing the books you love to read?
Do you give the new genre a chance, or do you move on to other authors?
A Sew Deadly Cruise
An Anastasia Pollack Crafting Mystery, Book 9
Life is looking
up for magazine crafts editor Anastasia Pollack. Newly engaged, she and
photojournalist fiancé Zack Barnes are on a winter cruise with her family,
compliments of a Christmas gift from her half-brother-in-law. Son Alex's
girlfriend and her father have also joined them. Shortly after boarding the
ship, Anastasia is approached by a man with an unusual interest in her engagement
ring. When she tells Zack of her encounter, he suggests the man might be a
jewel thief scouting for his next mark. But before Anastasia can point the man
out to Zack, the would-be thief approaches him, revealing his true motivation.
Long-buried secrets now threaten the well-being of everyone Anastasia holds
dear. And that's before the first dead body turns up.
Craft projects
included.
Buy Links
Amazon: https://amzn.to/3fwHR7X

Kobo: https://www.kobo.com/us/en/ebook/a-sew-deadly-cruise

Nook: https://www.barnesandnoble.com/w/a-sew-deadly-cruise-lois-winston/1137427499?ean=2940162697930

Apple iBooks: https://books.apple.com/us/book/a-sew-deadly-cruise/id1526052822
USA Today bestselling and award-winning author
Lois Winston writes mystery, romance, romantic suspense, chick lit, women's
fiction, children's chapter books, and nonfiction under her own name and her
Emma Carlyle pen name. Kirkus Reviews
dubbed her critically acclaimed Anastasia Pollack Crafting Mystery series,
"North Jersey's more mature answer to Stephanie Plum." In addition, Lois is a
former literary agent and an award-winning craft and needlework designer who often draws
much of her source material for both her characters and plots from her
experiences in the crafts industry.
Website: www.loiswinston.com
Newsletter
sign-up: https://app.mailerlite.com/webforms/landing/z1z1u5
Killer Crafts
& Crafty Killers blog: www.anastasiapollack.blogspot.com
Pinterest: www.pinterest.com/anasleuth
Twitter: https://twitter.com/Anasleuth
Goodreads:
https://www.goodreads.com/author/show/722763.Lois_Winston

Bookbub: https://www.bookbub.com/authors/lois-winston
https://www.thestilettogang.com/wp-content/uploads/2020/10/A2BSew2BDeadly2BCruise-BN2Bepub2B252812529.jpg
320
216
Debra
https://www.thestilettogang.com/wp-content/uploads/2022/03/TheStilettoGang-logo-09.png
Debra
2020-10-09 07:00:00
2022-07-05 17:22:39
The Fork in the Road