If you're a
writer, have you ever secretly—or maybe openly—dreamed of joining the ranks of
best-selling authors?
As much as
I'd like to deny ever having caught that virus—not deadly like COVID-19—I can't
say I write without thinking about bestsellerdom.
Competition
simmers in my veins. By grade school, I burned to excel scholastically and in
sports.

To this day, I wear a pedometer
intending to walk at least five miles every day (and tack on a time limit in
which to attain the goal). I love comparing notes with my son, twenty years
younger.
Employed by
a multi-national corporation that hired 2% of applicants, I hopped on the fast
track. Aimed high. Won lots of awards. Burned out and cashed out despite offers
to remain.
On to
writing full time. Knowing in the back of my mind that getting published would
take time. Saying I understood the unlikelihood of attaining bestsellerdom.
Loving the fun of writing x-number of words daily. Or editing. Or choosing
different paths to publishing. Still … I daydreamed.
Now, I still
set 1,000 words as my daily writing goal. I get a real high from writing that
first 150 words in less than fifteen minutes. (I figured out that I can write
an email averaging 150 words in about 8.5 minutes. So, I doubled that time to
write on my WIP). Getting those first words down propels me to keep writing for
an hour). Believe me, daydreams of bestsellerdom do not distract me for the next two hours.
But when I
start laying out my launch plan(s), the idea of seeing my book on any of
Amazon's Best Selling Lists will provide a certain je ne sais quoi (satisfaction isn't quite right. Fulfillment comes
close. Gratification figures in, along with a sense of awe).
So, I've
ranked in the top 50 on several Amazon charts in the past. Last week? Here's
the results of sales for Book 1 in the Ryn Davis Mystery Series during the
launch of Book 3, No Little Lies.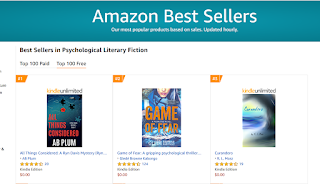 Okay, it's a
niche category on Amazon vs the NYT.
(Niche category is definitely a positive spin, I realize). But … I'm not so
competitive that I'm going to ridicule the ranking. When I caught the notice
(by chance, since I don't obsess over the level by checking it feverishly every
hour on the hour), I laughed out loud and did the Snoopy dance.
*** When AB Plum isn't Snoopy dancing or
walking, she plays and writes just off the fast lane in Silicon Valley. Visit
her website for updates and special offers:
Grab a copy of No Little Lies here
A
psychopath's terrifying game of cat and mouse pits him against Ryn Davis where
she is most vulnerable—a past she has denied for years. His ties to organized
crime make him even more dangerous and places her in ever darker jeopardy .
Who
is in control? What really happened to her mother? Why can't Ryn
remember?
Is facing her past
the path to survival or death?
https://www.thestilettogang.com/wp-content/uploads/2020/07/Screenshot_2020-07-102BAmazon2BBest2BSellers2BBest2BPsychological2BLiterary2BFiction.png
184
320
AB Plum
https://www.thestilettogang.com/wp-content/uploads/2022/03/TheStilettoGang-logo-09.png
AB Plum
2020-07-14 03:00:00
2022-07-05 17:26:45
Kicking the Competitive Craziness