by Paula Gail Benson
If you've seen the movies The Big Chill, The Great
Santini, and The Prince of Tides,
then you've seen parts of Beaufort, South Carolina. Pronounced Beau (rhyming
with DEW) -fort rather than the North Carolina Beau (rhyming with SEW) -fort, the
city preserves its historic features while offering a thriving community for
the arts, education, and military installations (Beaufort Marine Corps Base,
Marine Corps Recruit Depot Parris Island, and Naval
Hospital Beaufort Navy Base).
Tripadvisor
Two weeks ago, while traveling for work, I had the
opportunity to stay over in Beaufort and visit with a friend. During the
summer, it is hot and humid, but there are plenty of sights to explore inside.
We had a delightful lunch at the Lowcountry Produce Market & Café, which
offered both indoor dining as well as a variety of products to take home. It's
located next to the library on Carteret Street. As I was going there, I stopped
behind a long line of cars. I noticed no one seemed perturbed by the wait.
Later I learned that the bridge had been open, allowing vessels to pass. It's a
regular occurrence in Beaufort.
Up the street from Lowcountry Produce is NeverMore Books,
now located at 910 Port Republic Street. It provides a warm and welcoming
environment for any book lover. As you enter, there is a large collection of
books by local authors about Beaufort. I'll recommend two in particular by a
good friend and excellent historian, Alexia Jones Helsley. A Guide to Historic Beaufort, South Carolina (History and Guide)
(The History Press 2006) provides both the story of the city as well as
suggestions for touring. Wicked Beaufort
(The History Press 2011) offers a history of Beaufort's illicit activities
spanning from the 1500s to the 1900s.
Gregorie Glass Website
My friend, Greg Rawls, displays his beautiful glasswork art
at Thibault Gallery. You can view his work at the Gallery through this link or on
his website.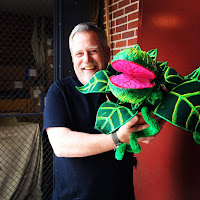 Greg with Audrey II from Little Shop of Horrors
In addition to his glasswork, Greg designs sets for the
Beaufort Theater Company and Beaufort Children's Theater. Sometimes he also
appears in the productions.
Beaufort may best be known as the home of novelist Pat
Conroy. The Pat Conroy Literary Center is located downtown and contains
memorabilia and offers programs of interests to readers and writers of all
ages. Come see the Spanish moss, smell the pluff mud, and be inspired by a man who drew his own
inspiration from this charmed city.
https://www.thestilettogang.com/wp-content/uploads/2021/08/Low2BCountry2BProduce.TripAdvisor.jpg
200
160
Paula Benson
https://www.thestilettogang.com/wp-content/uploads/2022/03/TheStilettoGang-logo-09.png
Paula Benson
2021-08-16 00:30:00
2022-07-05 17:10:52
Visiting Beaufort, South Carolina