by Kay Kendall
Many readers of the Stiletto Gang blog know that Bouchercon, the World Mystery Convention, was held last weekend in New Orleans. It's an annual gargantuan event that brings together fans, authors, publishers, agents, booksellers, and even critics of crime fiction for a long weekend of learning, awards, and fun. The name honors Anthony Boucher, the distinguished mystery fiction critic, editor, and author. He helped crime fiction gain credibility back when it was considered merely "pulp fiction."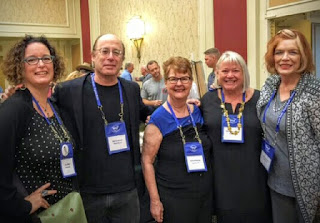 Where do Bouchercon authors hang out? In the book room of course!
(l-r) Lisa Alber, Barry Lancet, Laura Elvebak, Manning Wolfe, & me Kay Kendall
Naturally, in New Orleans, the entertainment and fun were stellar. Those of us who attended are still marveling at how the good times rolled and the hospitality was rampant, and some of us are just too tired to type…but type I must.
The first Bouchercon took place in 1970 in Santa Monica, California. Since then, Bouchercons have been held in many cities across the United States and in Canada too. In fact next year's event begins in Toronto on October 12, 2017. The fiftieth anniversary event will be held in Dallas, Texas. Thousands of totally volunteer hours go into making each Bouchercon a success–a fond memory to cherish and a shimmering event to attend again in the future.
While on the one hand many writers of crime fiction are deeply introverted, on the other hand most throw caution to the winds and revel in the comradeship of fellow authors and fans when at a Bouchercon. Included here are photographs to convince you of this truth.

Megastars chat–on left David Morrell (papa of Rambo) and Lee Child (dad of Jack Reacher)
My first Bouchercon took place in St. Louis, Missouri, in 2011. I'm not an introvert, but even I was initially taken aback by the hootin' and hollerin' as friends greeted each other after a year's absence. I expected to remain excluded from that for years. But I was wrong, thank goodness. The mystery crowd is famous for its inclusivity, its friendliness, and its supportiveness.
At the conference in St. Louis an author on his first Bouchercon panel expressed his astonishment. He had expected to see competitiveness and criticism, like he found when attending his wife's professional poetry events, where meanness abounded. The friendliness of Bouchercon amazed and pleased him. That was five years ago, and the kindness and support have only grown and expanded since then.
Writing is a lonely gig. Self-doubt is your constant companion. The worldwide publishing situation is super tough. Meeting up with other authors and readers, however, is a balm to your soul. If you are a crime fiction fan or writer and have never attended a Bouchercon–or a smaller conference perhaps nearer to where you live–I urge you to attend. "Just do it." Friendship, support, well-meant advice, and fun all await you.. It is truly one for all and all for one. We crime authors may write about mayhem and murder, but in real life, we are all (well, say, 99% of us) as gentle as lambs. And so, to close, I'll reference another famous ad slogan–"Life is meant to be good."
~~~~~~~
Kay Kendall
's Austin Starr mysteries <
http://www.AustinStarr.com
> capture the spirit and turbulence of the 1960s. DESOLATION ROW (2013) and RAINY DAY WOMEN (2015) show Austin, a 22-year-old Texas bride, set adrift in a foreign land and on the frontlines of societal change. Austin learns to cope by turning amateur sleuth.
https://www.thestilettogang.com/wp-content/uploads/2016/09/Bouchercon2016.jpg
223
320
Kay Kendall
https://www.thestilettogang.com/wp-content/uploads/2022/03/TheStilettoGang-logo-09.png
Kay Kendall
2016-09-21 04:00:00
2022-07-05 18:05:25
LET THE GOOD TIMES ROLL