by Kay Kendall
Like many authors, I am an avid reader. I also adore movies, and in both categories of storytelling I prefer fiction to non-fiction. I have loved many books and films and liked countless others. Increasingly these days, as the world becomes more and more fraught with ugliness and danger, I treasure the ability to escape into the tale of my choice, be it on the small screen or large, or on the digital or actual page. Fiction, bring it on. (Needless to say, I am not a fan of dystopian fiction.)
Two weeks ago I happened to see an online recommendation by Kate Quinn, an author of historical mysteries that I've read and admired. She enthusiastically supports the historical novel named Madensky Square. The book is set in Vienna, Austria, a few years before the outbreak of the disastrous First World War. Eva Ibbotson (1925-2010) wrote the book in 1985, and Pan Books reprinted it two years ago. The author herself was born in Vienna and moved to London right before World War II.
Those are the bare facts. What remains for me to convey is the intense feelings of joy and peace that reading this book instilled in me. Kate Quinn says she often urges people to read Madensky Square, and now I have joined her worthy crusade.
In the preface to the 2017 edition is this sentence: "Ibbotson was determined to prove that romantic novels can be funny, well-written and even a little erudite." Indeed, with Madensky Square, she achieved all that, in spades.
For me, however, to call this treasure a romantic novel sells it short. Although it begins sweetly and lightly with descriptions of the lovely square in which Frau Susanna has her dressmaker's shop, it proceeds to deepen as the pages turn. The lives of its characters–the dressmaker and her friends and lover–go through perils and triumphs, and yet by the ending most achieve a more perfect harmony. A few receive their just deserts that are not pleasant, but the plot flows effortlessly like a stream. Nothing feels the least contrived. Susanna hides a deep sorrowful secret that burdens her throughout the book. Believe me, this is no mere piece of fluff. And Ibbotson writes like an angel.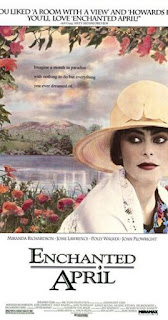 Enchanting is one adjective that came to my mind by the fiftieth page. Then, halfway through the book, I thought, "Ah-ha. The only time I've felt this enraptured by fiction was when I saw the 1991 film called, fittingly enough, Enchanted April. Even though I saw it only once, 28 years ago, I vividly recall the euphoria it induced in me. I'm delighted to learn that I can stream it tonight, and I shall.
A little research today showed me that the book that inspired it, The Enchanted April, was written in 1925 by a British author named Elizabeth von Arnim. The book was set in Italy and was so successful that it caused Portofino (where four fictional British women spend a month away from their boring and/or stressful lives–and husbands) to surge in popularity as a tourist distination. The author's life is well worth Googling, and you can read her entire book online for free here: http://www.gutenberg.org/cache/epub/16389/pg16389-images.html
If this blog post succeeds in getting even one person to read this novel and another to watch this film, I will feel good knowing that I've done my bit today in bringing more happiness into this dark world. Fiction lovers, I salute you!
~~~~~~~~~~~~~~~~~~~~~~~~~
She lives in Texas with
her Canadian husband, three house rabbits, and spaniel Wills.
Her
second book Rainy Day Women won the Silver Falchion for best mystery at Killer
Nashville. Her newest is After You've Gone.
Visit Kay at her website http://www.austinstarr.com/
or on Facebook
https://www.facebook.com/KayKendallAuthor
https://www.thestilettogang.com/wp-content/uploads/2019/07/67269567_10156672439129200_60149805799702528_n.jpg
320
243
Kay Kendall
https://www.thestilettogang.com/wp-content/uploads/2022/03/TheStilettoGang-logo-09.png
Kay Kendall
2019-07-17 03:30:00
2022-07-05 17:37:41
The Magic of Fiction