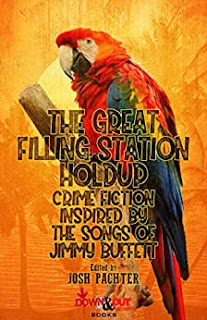 by
Paula Gail Benson
First,
for short story readers, here are two new anthologies:
The Great
Filling Station Holdup: Crime Fiction Inspired by the Songs of Jimmy Buffet (released
February 22, 2021, by Down & Out Books, edited by Josh Pachter) featuring
sixteen stories by
Leigh
Lundlin, Josh Pachter, Rick Ollerman, Michael Bracken, Don Bruns, Alison
McMahan, Bruce Robert Coffin, Lissa Marie, Redmond, Elaine Viets, Robert J.
Randisi, Laura Oles, Isabella Maldonado, Jeffrey Hess, Neil Plakcy, John M.
Floyd, and M.E. Browning.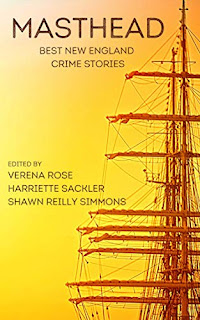 Masthead: Best New England Crime Stories (released December 18, 2020, by Level Best Books, edited by Verena
Rose, Harriette Sackler, and Shawn Reilly Simmons) is the 18th
anthology containing stories set in the New England states and including the Al
Blanchard Award Winner, Mary Dutta's "The Wonderworker". Other featured authors
are: Shannon Brady, Marlin Bressi, Chris Chan, R.M. Chastleton, John Clark, Bruce
Robert Coffin, Sharon Love Cook, Tina deBellegarde, Brendan DuBois, Patricia
Dusenbury, Gerald Elias, John M. Floyd, Debrah H. Goldstein, Judith Green, Maurissa
Guibord, Margaret S. Hamilton, Steve Liskow, Michael Allan Mallory, Jason
Marchi, Ruth McCarty, Adam Meyer, Jen Collins Moore, Lorraine Sharma Nelson, Erica
Obey, Alan Orloff, Olive Pollak, Tonya Price, Michele Bazan Reed, Pat Remick, Harriette
Sackler, Lida Sideris, Shawn Reilly Simmons, Clea Simon, M.J. Soni, Cathi
Stoler, Anne Marie Sutton, Larry Tyler, Bev Vincent, and Cathy Wiley.
Second, for short story writers, here's a new
publishing source:
Red Penguin Books offers a number of services
for authors: publication, editing, website construction, and marketing. In
addition, Red Penguin Books has a series of anthologies, for mysteries, non-fiction,
fantasies, histories, children's books, poetry, plays, and paranormals.
Here's the link to check out deadlines for
upcoming publications:
https://redpenguinbooks.com/upcoming-publications/
https://www.thestilettogang.com/wp-content/uploads/2021/03/The2BGreat2BFilling2BStation2BHoldup.jpg
320
207
Paula Benson
https://www.thestilettogang.com/wp-content/uploads/2022/03/TheStilettoGang-logo-09.png
Paula Benson
2021-03-22 00:00:00
2022-07-05 17:16:19
Short Story Anthologies and Markets