By Laura Spinella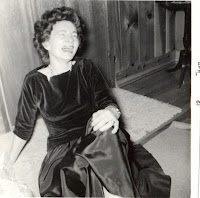 **This is an updated rerun of last year's post on the occasion of my mother's 84th birthday! She is happily celebrating with two of her grandchildren while I nurse a nasty pinched nerve. It's kept my blogging/sitting/typing skill set to the bare minimum. So my apologies for the repeat, but I'm sure Mother doesn't mind! Happy Birthday!
There are certain things you can't imagine in life, like how you might prefer summer to winter, and big holy crap things like a published book. The premise of this blog, I think, falls somewhere in between. Today is Mother's 84th birthday. Last year we marveled over her Friday the 13th birthday, Downton Abbey-like manners, and sharp wit. This year we celebrate the same, less the black cat calendar date and with the addition of my book two later this year. Don't tell, it's a surprise, but we'll be uploading ISABEL'S RHAPSODY onto her birthday present come November. By then I guarantee Mother will have mastered the 21st century instrument of the printed word.
And by the way, it is Mother. Let's get the terminology correct. Every year I look at rows of greeting cards marked Mom, and wonder, "Who would I send that to?" The card is a struggle on a lot of levels. We're not an outwardly demonstrative group. I know lots of writers who'd use a card or blog to gush at length. They'd post gooey Facebook notes about how much Mom means and mark it with endless emoticons. While I've been known to tug at the heartstrings when it comes to my characters, it's just not the way we do it at my house. Think more the decorum you'd display for the Queen. So, I thought, instead, I'd share a little with you about Mother (also never preceded by a possessive pronoun) who lives in Pennsylvania with my father. He'll be 87 next month; he calls her Tootsie.
Mother's name is Clarabel, which never struck me as odd, but you can bet spell check just marked it with a big red line. She was born prematurely, and for all the fuss and care taken with preemies today, let it be known that they stuck her in a coal stove. Eighty-four years later, and she's happy to tell you the story. Her father was an interesting self-made man who, during the Great Depression, built houses and roads in Pennsylvania. Driving down any of those winding macadam-covered paths, she'll say, "Your grandfather built this." She attended a one-room school house that still stands next to a chapel. A painting of it hangs in her dining room. She is the middle daughter, of a middle daughter, of a middle daughter. My sister, Christine, got to be the next middle daughter, her daughter, Keryn, wise enough to be a middle daughter too, keeping that genealogical marker going. Mother's mother was named Nora, which rhymes with Laura, and I like to think was subconsciously intentional on Mother's part. Interestingly, this came full circle with the titling of
ISABEL'S RHAPSODY
. Mother remarked, "Well, that's almost like Clarabel's Rhapsody, isn't it?" Mmm, perhaps. But I doubt
Mother
was on my mind as I worked a steamy Chapter Twelve!
She didn't go to college, and I think this has always bothered her. But post WWII wasn't an era in which women and higher education were encouraged. On the other hand, do not confuse this with any mark of intelligence or drive. Mother attended Central Communications and Airlines Academy in Kansas City, MO, going on to become one of the first women in management at TWA. To do this, she had to move to New York City, quite an adventure for an 18-year old girl from rural Pennsylvania. There she met my father, whose job wasn't nearly as important. (No worries, he makes his mark a little later in life. Perhaps his birthday falls on my next blog date.) Men significantly outnumbered women in the workplace, and Mother had her pick of suitors. She even brushed elbows with Howard Hughes who immediately washed his. As for my parents, the story goes that Mother had a date to meet a guy named Charlie Hiney under a clock in Times Square. My father showed up early and told him to get lost. My sisters and I are grateful for this intervention and a guaranteed childhood of torment!
The next thirty plus years take place on Long Island, where tradition was at the heart of most everything. Mother sewed like a five-star seamstress. She could make doll clothes and real clothes and costumes and slipcovers. I'm not sure how this skill befell her, but I bet I had the best-dressed Barbies on the East Coast. I know I had the most incredible Halloween costumes. When I was eight, she broke her leg while ice-skating. Mother never missed a beat, wearing a thigh-high cast from February to July. The Sound of Music is her favorite movie, and if you're not of a Fox News, conservative mindset… Well, it would be my best advice you keep that information to yourself. I do.
My parents have traveled over the years. She's enjoyed places like Italy, Israel and Austria. She's not a resort type of person, though they did take a cruise last winter. She'd kvetched about the excursions, not the destinations or cost—well, maybe the cost—but mostly Mother was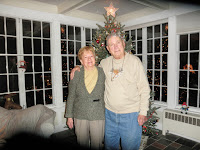 perturbed by the age restrictions. Apparently, cruise lines were not that excited about folks over 75 participating in their day trips. When she told me this I laughed under my breath, thinking: Good luck to whoever is running that show. Apparently, they hadn't met Mother.
While that merely scratches the surface of Mother, I'll leave it there, wishing her a happy 84th birthday and many more!
Love,
Laura Jean

Laura Spinella is the author of the award winning novel, BEAUTIFUL DISASTER, and the upcoming novel, ISABEL'S RHAPSODY. Visit her at www.lauraspinella.net
https://www.thestilettogang.com/wp-content/uploads/2013/01/clarabel.jpg
198
200
The Stiletto Gang
https://www.thestilettogang.com/wp-content/uploads/2022/03/TheStilettoGang-logo-09.png
The Stiletto Gang
2013-01-11 00:00:00
2022-07-05 18:34:56
Mother's Day