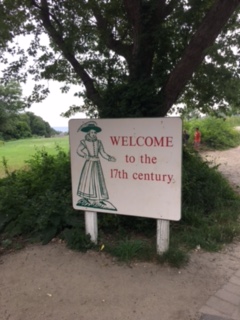 by Paula Gail Benson
In school, I learned that the
Pilgrims landed at Plymouth Rock in 1620.
On the map, there is an oceanfront
town of Plymouth, Massachusetts, which is a lovely place to spend a carefree
summer day.
Within the town of Plymouth,
Massachusetts, there is a living history Museum called Plimouth Plantation.
Why is the Plantation name spelled
differently from the town's?
According to a
United States History Project webpage
, the definitive
journal detailing the organization of the colony by William Bradford had "Of
Plimouth Planation" written at the top. "Plymouth" is considered the more
modern spelling.
Visiting Plimouth Plantation gives
modern guests the opportunity to immerse themselves in 17th century culture,
both from the colonists' and Native Americans' viewpoints. The museum was
established in 1947 by Henry Hornblower II (1917-1985), who worked in his
family's business of finance, but had a love for American history and
archaeology that grew from his boyhood spent in the family's Plymouth summer
house. He became determined to present the story of the Pilgrims and the
Wampanoag People with the greatest accuracy and integrity possible.
From
its humble beginnings, the museum has grown to include a replica of the
Mayflower (known as the Mayflower II and now residing in Mystic Seaport being
restored for the 400th anniversary of the crossing to take place in
2020–Queen Elizabeth II is expected to be in attendance for the celebration);
recreations of an English village and Wampanoag
Homesite; a visitors' center (featuring a café where foods from the 17th
century are served), craft center (where artisans use tools, materials, and
techniques to create items that might have been used by the early colonists),
barn with native and historical animals, and grist mill. All these venues are
open to the public with interpreters and other guides.
This summer, I had the
opportunity to spend a morning at Plimouth Plantation. As we approach
Thanksgiving, here are a few pictures of the buildings and depictions of how the early settlers and
Native Americans lived.
Visitors' Center
Nye Barn
Craft Center
Wampanoag Homesite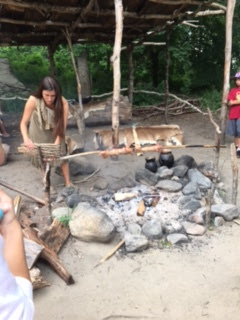 The Wampanoag Homesite features Native Americans demonstrating skills used by their ancestors. On the day I visited, they were cooking rabbit over the fire.
Here are photos of the English village and interpreters.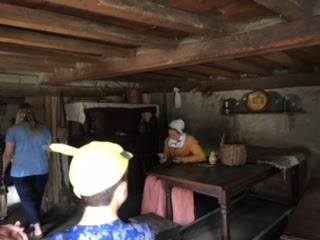 The Grist Mill is at Jenny Pond. Visitors can watch the grinding and purchase corn meal.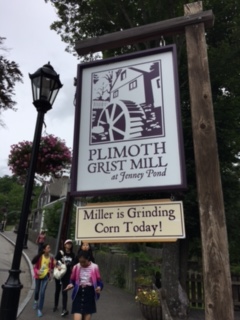 May you all find joy in your celebration of Thanksgiving this year!
https://www.thestilettogang.com/wp-content/uploads/2017/11/Plimouth.Welcome.jpg
320
240
Paula Benson
https://www.thestilettogang.com/wp-content/uploads/2022/03/TheStilettoGang-logo-09.png
Paula Benson
2017-11-20 00:00:00
2022-07-05 17:56:29
Plimouth or Plymouth?