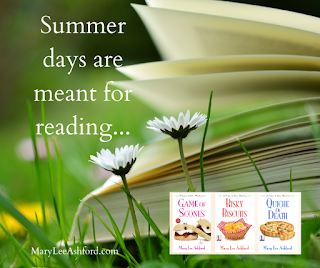 Summer time and the livin' was easy… so goes the song.
Here it is – already the first of July and here in the Midwest we are definitely feeling the heat of summer. And the humidity…
I can't even imagine what it's like for some of you who are seeing triple-digit temps. I'm thankful every day that my air-conditioning is working and that I'm not relying on a fan like we did when I was a kid.
Because I grew up in a very small town, my summers were mostly spent hanging out with friends and reading.
When I think of summers growing up, I think of the sweet tea that my mom would steep in a pot on the stove and then cool and pour over ice. In my mind I can smell the green grass that cushioned the blanket in the backyard where I'd park myself for hours with the latest book I'd checked out from the library. A comfy spot and usually a radio along for a little background music. Now, I'm dating myself, aren't I?
Different summers, different tastes in reading but always the backyard and a book. One summer I devoured Trixie Belden books. Another time it was Nancy Drew. My mom was an Agatha Christie fan and one summer I started on her collection of mysteries.
There were chores to do, of course. But in retrospect, life really was pretty slow and easy. Not much rushing about. Time for really diving into a good book.
What memories come to mind for you when you think about your summers growing up? Were you busy with activities or were your summer days slow and easy like mine? Any favorite reads come to mind?
Leave a comment below and on Friday, I'll draw a name to receive a fun summer bag and a copy of my most recent book,
Quiche of Death.
(Or if you already have that one, thank-you for that, and we'll figure out a different one.)
Mary Lee Ashford
is a lifelong bibliophile, an avid reader, and supporter of public libraries. In addition to writing the Sugar & Spice mysteries series for Kensington Books, she also writes as half of the writing team of
Sparkle Abbey
. Prior to publishing she won first place in the Daphne du Maurier contest sponsored by the Kiss of Death chapter of RWA.
She's the founding president of
Sisters in Crime – Iowa
and loves encouraging other writers. Mary Lee has a passionate interest in creativity and teaches a university level course on the topic. In her day job, she is a Deputy Chief Information Officer, and is happy to answer technology questions but probably can't fix your computer. She resides in Iowa with her husband, Tim, and Zoey the cat. Her delights are reading and enjoying her family, especially her six grandchildren. Her family has come to terms with the idea that plotting murders is a frequent topic at family gatherings.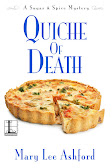 Quiche of Death – Book 3 in the Sugar & Spice series
When editor
Sugar Calloway and baker Dixie Spicer went into business creating cookbooks,
they found a sideline as amateur sleuths. Now a bitter family grudge could
leave a fatal aftertaste…
At Sugar & Spice Community Cookbooks, the
friends and business partners have secured a tasty new commission: producing a
cookbook for the Arbor family. The Arbors have made their fortune in quiches,
and Sugar and Spice have been invited to a weekend gathering where all the
siblings, along with crusty matriarch Marta, will be in attendance. But it's
soon clear that this trip will come with a hefty slice of drama.
Theo, the only grandson, arrives with his flaky
fiancée, Collette, who quickly stirs up trouble . . . and is found dead the
next day. As the investigation unfolds, secrets—and recipes—are shared, and
Sugar and Spice realize just how messy and murderous the situation may be. As
another family member falls ill, can they solve the case without getting egg on
their faces . . .and a target on their backs?
https://www.thestilettogang.com/wp-content/uploads/2021/07/Summer2Bdays2Bare2Bmeant2Bfor2Breading....png
268
320
The Stiletto Gang
https://www.thestilettogang.com/wp-content/uploads/2022/03/TheStilettoGang-logo-09.png
The Stiletto Gang
2021-07-01 01:30:00
2022-07-05 17:12:18
Summer time and the livin' was easy…