By Sparkle Abbey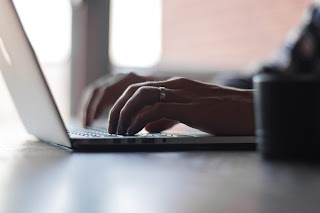 We're all doing it. If you haven't yet, trust us you will. No, we're not talking about drinking wine at noon. Although if you are drinking wine at lunchtime, more power to you. We're talking about virtual meetings. Around the world, people are working from home as we practice social distancing, which means you may have already had to embrace the virtual meeting.
There are lots of options for online meetings. Last week our critique group used Google Hangouts. Our next meeting we're going to use Zoom. It seems pretty straightforward and some of us have already used it for day-job work meetings now that we're working from home.
If you're considering using technology to stay in touch with family and friends, we have a few tips – besides the very important don't take your computer with you to the bathroom.
So, before you accidentally turn yourself into a potato filter, here are our five tips for a successful virtual get-together.
Test everything first. Does your computer or mobile device have a microphone and camera? Make sure you know how they work.
Before your first meeting learn a bit about the virtual meeting tool. Practically all the available options have a tutorial on their website and YouTube is packed with how-to videos.
Try out a few different options and see which one works best for you. There are a bunch of them out there. Google Hangouts, Zoom. Slack, Skype, Teams, Go-To-Meeting, and more.
Manage your expectation. It's not going to be perfect and you'll mess up, but keep trying. We promise it will get better with more experience.
Have fun! Though it's not as good as seeing your friends and family in person, it's a creative way to stay in touch and see those faces you're missing.
Let us know what you think! Have you been doing virtual meetings? If so, what's your favorite app? If not, is it something you'd be willing to try?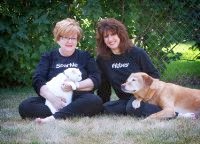 Sparkle Abbey is actually two people, Mary Lee Ashford and Anita Carter, who write the national best-selling Pampered Pets cozy mystery series. They are friends as well as neighbors so they often get together and plot ways to commit murder. (But don't tell the other neighbors.)
They love to hear from readers and can be found on Facebook, Twitter, and Pinterest, their favorite social media sites.
Also, if you want to make sure you get updates, sign up for their newsletter via the
SparkleAbbey.com
website.
https://www.thestilettogang.com/wp-content/uploads/2020/04/thomas-lefebvre-gp8BLyaTaA0-unsplash.jpg
213
320
The Stiletto Gang
https://www.thestilettogang.com/wp-content/uploads/2022/03/TheStilettoGang-logo-09.png
The Stiletto Gang
2020-04-02 01:00:00
2022-07-05 17:30:17
Getting Together When We're Apart