It's that
time of year, isn't it? The time of year where we think about gift-giving. So,
we thought it would be a great time to chat with you all about gifts.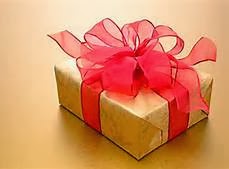 Storytelling
could be considered a gift that writers give to readers. Our local writers'
group has an event every December to celebrate members achievements for the
year, whether it's been completing a book for the very first time (First
Manuscript Slain), or making a bestseller list (Summit Award), or helping each
other (Tender Heart).
Because the
event is in December, we also exchange gifts. But to give things a different
twist, we decided several years ago to do a "white elephant" gift exchange. No
purchases are allowed. Instead, you must rummage through your house to find
something to give as a gift. Maybe it's a chance to re-gift a present from a
previous holiday or even a chance to share an item you no longer need. We've received some wonderful "white elephants" such as cookbooks, candles, fuzzy
socks, and a talking fish. Needless to say, we have a lot of fun!
"Yesterday's
the past, tomorrow's the future, but today is a gift. That's why it's called
the present." – Bill Keane
Most families
and friends don't give "white elephant" gifts, but instead shop for a present.
And we all have our own shopping style, don't we?. Some of us begin shopping
very early, others are last minute shoppers. We may spend hours picking out
just the right thing, or we may choose the simplicity of gift cards. Some
talented folks make gifts for their friends and family.
Some of our favorite
gifts are not necessarily the biggest or most expensive ones; they're the gifts
of the heart. A notebook of thoughts during time away from a husband, a box
full of scraps of paper noting family memories from a son, an intricate origami
from a grandchild, a picture made up of words that connect us from a friend.
We'd like to
hear what you think. What is it that makes a gift special? What's the best gift you've ever received?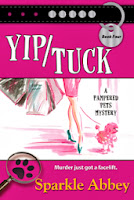 As our gift
to you, we'll be drawing a name from among everyone who leaves a comment today (don't
forget to leave your email address) and we will gift you with two Sparkle Abbey books. One for you, and one for you to give to a friend!
https://www.thestilettogang.com/wp-content/uploads/2013/12/gift.jpg
169
229
The Stiletto Gang
https://www.thestilettogang.com/wp-content/uploads/2022/03/TheStilettoGang-logo-09.png
The Stiletto Gang
2013-12-05 05:00:00
2022-07-05 18:27:59
* ˚Gifts ✰˚* ˚