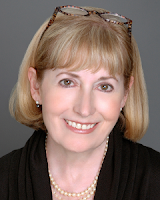 G. M. Malliet worked as a journalist and copywriter for national and international news publications and public broadcasters. Winner of the Malice Domestic Grant (Death of a Cozy Writer) and the Romance Writers of America's Stiletto Award, Malliet attended Oxford University and holds a graduate degree from the University of Cambridge.She and her husband live in Virginia. For a description of Death and the Lit Chick, see http://gmmalliet.com/

Several years ago, my husband and I belonged to a neighborhood book club. It lasted only about two years, then the group dissolved: attrition, conflicting and busy schedules, and all the rest made it too difficult to meet. What was slightly unusual about this club was that it was comprised of three men and three women. I don't have statistics to back this up, but I imagine most book clubs are female only or predominantly female.
What was also unusual was that, about eighteen months into our monthly meetings, we realized we had read only books by male authors. I don't remember the books now, except for Peace Like a River (lovely writing) and some god-awful attempt at imitating the Travis McGee books. My point is: We may have come a long way, baby, but somehow, without even realizing it, the women had gone along with choosing the more muscular books they thought the men might like, rather than making the men struggle through something like Sex and the City. I guess we knew they would flat-out refuse and that would be the end of that.
This is a pathetic confession to have to make; to this day I can't believe we women behaved like this, without even realizing we were doing so. The whole episode has been in my mind now that the ramp-up to my second novel in the St. Just mystery series has begun. A key–nay, a crucial–part of this ramp-up is the unveiling of the book cover, which, rightly or wrongly, can raise or sink a book. The first book was called Death of a Cozy Writer, and it was beautifully illustrated, I thought, by a fountain pen dripping blood (trust me, it sounds awful but it looks great). The second book is called Death and the Lit Chick, the cover for which appears above.
My first reaction on seeing this cover was that I loved it–I thought it was clever and impactful, looking like the spilled contents of a woman's purse (although it did portray many items not mentioned in the plot–a subject many authors over the centuries have ranted about so there's no need for me to repeat the rantings here). But my husband took one look and declared that no man would be caught dead buying that book unless it came supplied with a brown paper wrapper.
Worriedly, I reported the findings of my two-person survey to my editor, fearing I was going to lose the male audience that I knew existed for the first book. The second book was in the identical, traditional British mystery vein (there is nothing chick litty about the plot). But would I lose the men forever with this one? She told me that my audience would largely be female, anyway, and female was the target audience.
Is this true? I hate to lose the guys over a cover. Perhaps Death and the Lit Chick can be a litmus test, the way my book club was. If challenged, will "real men" buy a girly looking pink-and-red book with lipstick on the cover?
We shall see come April.
G.M. Malliet
http://gmmalliet.com/
https://www.thestilettogang.com/wp-content/uploads/2008/09/G.M.Mallietsmall.png
200
160
The Stiletto Gang
https://www.thestilettogang.com/wp-content/uploads/2022/03/TheStilettoGang-logo-09.png
The Stiletto Gang
2008-09-26 05:00:00
2022-07-05 19:19:29
Death and the Lit Chick