Great Grandkids and Sports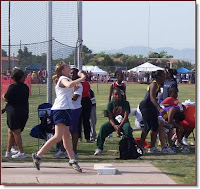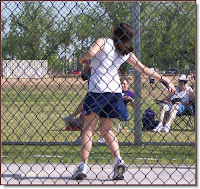 This past weekend, my daughter and hubby drove their motor home from California with their two of their granddaughters to a big track meet in Arizona.
Years ago, both their son and daughter participated in both the shot put and discus events in high school track.
Now their son's daughters who are both in middle school are doing great in these two events.
The younger one with the darker hair made first place in discus. The older one came in fifth but there were 43 others competing. So I'd say that was pretty good.
Grandpa (my son-in-law) has been coaching these two whenever he has been around to do so.
Needless to say, my daughter and son and law are pleased as can be.
Great-grandma and pa are pretty proud too. We don't get to see these kids as much as we'd like to as they live rather far away. Even though we're all in California, it's a long drive. Thank goodness for the Internet and the ability to send messages and photos.
Okay, I won't brag about great-grandkids anymore–at least not for awhile.
Marilyn
http://fictionforyou.com/
https://www.thestilettogang.com/wp-content/uploads/2010/04/Emilyshotput.jpg
189
200
The Stiletto Gang
https://www.thestilettogang.com/wp-content/uploads/2022/03/TheStilettoGang-logo-09.png
The Stiletto Gang
2010-04-20 04:00:00
2022-07-05 19:03:08
Great Grandkids and Sports