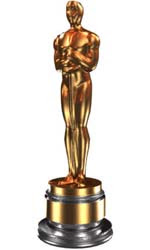 by Maria Geraci
This Sunday night is the 83rd annual Academy Awards which means I'll be sitting in front of my television with a bag of popcorn in one hand and a diet coke in another. Or maybe instead of the diet coke it'll be a glass of red wine. I'm not sure yet. It'll depend on my mood.
I'm not a celebrity hound nor do I watch the gazillions of award shows that surround the "big show" but I'm a sucker for the Oscars and have been ever since I was a little girl. Maybe it's because I'm a frustrated actress or because I love movies. Or maybe it's because I love the gowns. And the shoes. And the hair styles. And the speeches. And the big musical numbers. Or a combination of all the above.
This year's show will be hosted by Anne Hathaway and James Franco. Have you seen the commercials? They're really playing it up. Young Hollywood does the Oscars. I think it's going to be great. My favorite movies this year were Toy Story 3 (I cried like a baby!), The Social Network, and The King's Speech (which I think should win Best Picture). I absolutely loved Colin Firth and hope he wins his first Oscar. The Brits in my opinion, always give the best speeches and I'm sure he won't disappoint.
Over the years I've collected my personal best and worst moments.

Best Oscar Speech: Roberto Benigni for Life is Beautiful (in which he jumped on top of his seat when his name was called) also BEST OSCAR MOMENT EVER!
Worse Oscar Speech: Julia Roberts for Erin Brokavich (in which she failed to mention the real Erin Brokavich and "ordered" the orchestra to stop playing when they tried to interrupt her because she'd gone over her time limit).
Best Host: Billy Crystal
Worst Host: David Letterman (Oprah Uma, anyone?)
Best Dress: Anything Penelope Cruz, Nicole Kidman or Halle Berry wear
Worst Dress: Anything Diane Keaton wears
Best Jokes: Billy Crystal, Steve Martin. Whoopi Goldberg
Worst Jokes: David Letterman
Best Star for the camera to "catch" in the audience: Jack Nickolson
Best Star in a tux: Hugh Jackman (drool)
Strangest/Funniest Moment: Jack Palance doing his one armed push ups and saying that he poops turds bigger than Billy Crystal (probably not his exact words, but you get the drift).
Most Awkward Moment: Jennifer Aniston presenting at the podium with Brangelina sitting in the front row.
How about you? Are you going to watch? What are some of your favorite or worst moments?
https://www.thestilettogang.com/wp-content/uploads/2011/02/oscars.jpg
250
150
The Stiletto Gang
https://www.thestilettogang.com/wp-content/uploads/2022/03/TheStilettoGang-logo-09.png
The Stiletto Gang
2011-02-24 07:33:00
2022-07-05 18:53:04
Oscars 2011