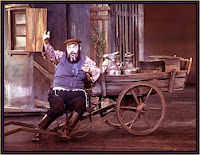 Here's a confession from the Northern Half of Evelyn David. It's important to distinguish who is talking here because as you will learn, there's a real schism in this partnership.
When I drive, I listen to Sirius Radio, specifically I listen to On Broadway (channel 75) with Seth Rudetsky and Christine Pedi, self-described as "a couple of dueling divas." Truth is, I want them both to shut up and just play the music. I also listen to 40s on 4 – the era of the big band sound. I'll flip to some classical music if the Broadway tune is too depressing or atonal. I switch over to AM radio to catch the traffic conditions and news on the hour. Great, thoughtful discussions on topics arcane or newsworthy? Not so much. I have what is best described as middlebrow taste – verging on low brow. And I have no apologies for any of it.
In contrast, the Southern half of this writing combo listens to NPR with a dedication that borders on religious fervor. I could no more tell you the host of All Things Considered than she could hum a few bars from Fiddler on the Roof.
But I'm not here to discuss our drive-time taste.
The truth is I don't listen to NPR, just like I don't watch much of what's on the public TV stations now that my kids have outgrown Mister Rogers (a national treasure, may he rest in peace). But I do believe in public funding of the arts, even when the nation is in the midst of an economic crisis, because art, in all its forms, is as necessary to the life of a democracy as clean air. George Washington in 1788 declared the arts "essential to the prosperity of the state and to the ornament and happiness of human life." If it's good enough for George, it should be good enough for Representative Doug Lambon, a three-term Republican from Colorado who introduced a bill that would block all taxpayer dollars that NPR might receive.
Representative Lambon has glommed on to the sting operation organized by conservative activist James O'Keefe. Was the fundraiser for NPR who criticized the Tea Party to a potential donor absolutely wrong to make such a comment? Sure. Was it absolutely wrong of O'Keefe to play gotcha by setting up this undercover sting? You bet.
But I'm even more irritated with Representative Lambon. Because I know he knows that NPR receives only 2 percent of its budget from Federal funds. He knows, as the New York Times editorial points out, that his bill is "unattached to a budget measure, it will never survive the Senate or a presidential veto." It's what I call "posturing." Doesn't really intend to do anything for the current budget crisis, doesn't really impact NPR, doesn't really address any issues, but is designed to put his name in lights, maybe draw some attention and money to his political career. What a waste of time and energy when there are bigger, more important problems facing America and the world.

Do you remember the movie, based on a Broadway show, Best Little Whorehouse in Texas? One of the most delicious scenes is Charles Durning, playing the governor of the state, who sings and dances to The Sidestep, able to take whichever position on an issue makes him popular. It's a show-stopper and the audience responds because it's not only clever (and Durning is fantastic), but also because too many of us believe that is what most politicians on both sides of the aisle are doing.
This is a serious time. The crises we face here and abroad are real and scary. Stop wasting time crafting bills that don't address the real issues. Quit dancing The Sidestep.
(Nice that I could end this little rant with a reference to a show tune.)
Marian (the Northern half of Evelyn David)
Brianna Sullivan Mysteries – e-book series
I Try Not to Drive Past Cemeteries- Kindle – Nook – Smashwords
The Dog Days of Summer in Lottawatah- Kindle – Nook – Smashwords
The Holiday Spirit(s) of Lottawatah- Kindle – Nook – Smashwords
Undying Love in Lottawatah- Kindle – Nook – Smashwords
A Haunting in Lottawatah – Kindle – Nook – Smashwords
The Sullivan Investigation Series
Murder Drops the Ball (Spring 2011)
Murder Takes the Cake- Paperback – Kindle
Murder Off the Books- Paperback – Kindle
Riley Come Home (short story)- Kindle – Nook – Smashwords
Romances
Love Lessons – Kindle – Nook – Smashwords
https://www.thestilettogang.com/wp-content/uploads/2011/03/zeromostel.jpg
155
200
The Stiletto Gang
https://www.thestilettogang.com/wp-content/uploads/2022/03/TheStilettoGang-logo-09.png
The Stiletto Gang
2011-03-21 05:00:00
2022-07-05 18:52:13
The Sidestep