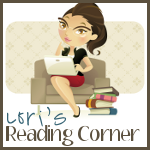 Welcome to my first Lori's Book Sense post. I would like to thank the wonderful women of The Stiletto Gang for asking me to join them here each month. I'm honored!! Each month I'll share with you a few of my favorite reads from the previous month. Since this is my first month I'm going to post a few of my favorite all time reads.
First I'd like to tell you a little bit about myself and how I got blogging. For the past 14 years I've worked for my family business. I work with my father and two younger brothers. I have three beautiful nieces. I just hit the big 4-0 and live with my Maltese puppy Sadie.
I belonged to a book swapping site ~ www.paperbackswap.com. My friends started calling me "the book pimp" because my book recommendations would cause their wish lists to grow. Several of them started bugging me about doing a book blog. Eventually I gave in and it's taken off. Never in my wildest dreams did I think it would turn into the success it seems to have become. It actually boggles my mind at times.
Overkill by Joseph Teller (4th book in the Jaywalker series)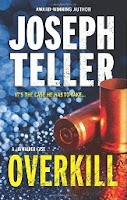 Harrison J. Walker—Jaywalker, to the world—is a frayed-at-the-edges defense attorney with a ninety-percent acquittal rate, thanks to an obsessive streak a mile wide. But winning this case will take more than just dedication.Seventeen-year-old Jeremy Estrada killed another boy after a fight over a girl: shot him point-blank between the eyes. No one disputes those facts. This kid is jammed up big-time, but almost unable to help himself. He's got the face of an angel but can hardly string together three words to explain what happened that day…yet he's determined to go to trial. All they've got is a "yesbut" defense, as in: "Did you kill him?" "Yes, but…" Jaywalker is accustomed to bending the rules—this case will stretch the law to the breaking point and beyond.
Trust me, if I ever get into any sort of legal trouble Harrison J Walker (Jaywalker as he likes to be called) is the lawyer I'm going to call. Overkill is the fourth in the Jaywalker series. I stumbled on Mr. Teller's first book a while back and was immediately taken in. Now I anxiously await each next book in the series! Jaywalker is dedicated, hard working, and loyal and determined to a fault. He goes after his cases with guns blaring. He will work himself to the bone, forsaking sleep and food if it means justice for his client. Too often I find myself reading as fast as I can to find out just where he will take me, but then force myself to slow down so that I can savor every question, every thought, and every emotion. Overkill is a legal thriller on par with any John Grisham or Scott Turow I've read. You will marvel at his way with words, at his finesse in the courtroom and his skill when handling witnesses. You too will fall in love with Jaywalker.
Motherhood is Murder by Diana Orgain
Nights out are hard to come by for new mommy Kate Connelly. So when Kate and her husband are invited to a dinner cruise hosted by her new mommy club, Roo & You, they jump at it. But when the president of the club takes a deadly spill, everyone becomes suspect-and Kate's on deck to solve the mystery.
I adore Kate. She's funny, charming, goofy, determined, and lovable. She has a husband who adores her and supports her 100%. Her "to do" lists are hysterical – right down to making sure she stops at the library to pick up her copy of The Dummies Guide to Private Investigating. She is head over heels in love with her 7 week old daughter Laurie, but at times feels like she's not a good enough mother – she doesn't know if Laurie can hold her head up at a 45 degree angle while having tummy time, she didn't sign her up for swim classes while she was still pregnant with her and she doesn't make home made baby food! But what Kate knows is that while all of that is great, what really matters is that she loves her daughter and after that everything else will fall into place. This is a great read for any mother or soon to be mom who is looking for something light and fun to read while the baby is napping or while awaiting its arrival. The discovery of the murderer and their reasons behind are a shocking twist that many won't see coming. Motherhood Is Murder is a fun, fast, cozy read that will keep its readers entertained and anxiously awaiting the next installment. A must read.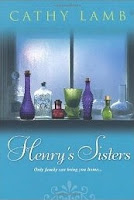 Ever since the Bommarito sisters were little girls, their mother, River, has written them a letter on pink paper when she has something especially important to impart. And this time, the message is urgent and impossible to ignore—River requires open-heart surgery, and Isabelle and her sisters are needed at home to run the family bakery and take care of their brother and ailing grandmother. Isabelle has worked hard to leave Trillium River, Oregon, behind as she travels the globe taking award-winning photographs. It's not that Isabelle hates her family. On the contrary, she and her sisters Cecilia, an outspoken kindergarten teacher, and Janie, a bestselling author, share a deep, loving bond. And all of them adore their brother, Henry, whose disabilities haven't stopped him from helping out at the bakery and bringing good cheer to everyone in town.But going home again has a way of forcing open the secrets and hurts that the Bommaritos would rather keep tightly closed—Isabelle's fleeting and too-frequent relationships, Janie's obsessive compulsive disorder, and Cecilia's self-destructive streak and grief over her husband's death. Working together to look after Henry and save their flagging bakery, Isabelle and her sisters begin to find answers to questions they never knew existed, unexpected ways to salve the wounds of their childhoods, and the courage to grasp surprising new chances at happiness.Poignant, funny, and as irresistible as one of the Bommarito sisters' delicious giant cupcakes, Henry's Sisters is a novel about family and forgiveness, about mothers and daughters, and about gaining the wisdom to look ahead while still holding tight to everything that matters most.
Will coming home to Trillium River be the wake up call that this family needs? Will they be able to finally deal with the trauma's of their lives and finally find peace and happiness? Will they once and for all get the answers that they've unknowingly been searching for? But just when things seem as if they are finally turning around they get the most crushing, heart breaking news they could ever get. They are faced with something that they are not willing to deal with and could very well destroy any of the progress that they've made. It is now time for them to put everything else aside and come together as a family.
A beautifully written tale of one families struggles and triumphs. Of how they overcome adversity and figure out a way to move on with their lives. Of how to love and trust again. Of forgiveness and family. Full of laugh out loud moments and heartbreaking scenes, scenes that will have you crying as you read them, Henry's Sisters is one story that you will regret not reading.
https://www.thestilettogang.com/wp-content/uploads/2011/05/Overkill.jpg
200
127
The Stiletto Gang
https://www.thestilettogang.com/wp-content/uploads/2022/03/TheStilettoGang-logo-09.png
The Stiletto Gang
2011-05-30 06:17:00
2022-07-05 18:50:11
Lori's Book Sense