Ooops, I Missed my Day by Marilyn Meredith
In the middle of the night, I realized I hadn't written anything for my day on this blog. Since no one else has showed up yet, I'll let you know my excuse.
I'm in the middle of a blog tour for my latest Rocky Bluff P.D. mystery, A Crushing Death, and believe me, that takes lot of time to promote.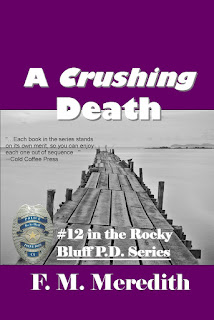 In the midst of all this, and normal life, such as it is, my granddaughter, hubby and two great granddaughters have moved in with us. They are going to buy our house. Trying to meld the contents of two household has been interesting–and shown hubby and I how much we need to get rid of.
Having two little girls around (almost 2 and almost 4) livens things up a lot. Believe me, I love it. We have the most interesting chats and I receive many hugs.
I'm also in the process of a project that needs to get done ASAP–and I have a new book to get written. So far all I have down is some notes–possibilities for the plot.
So, I hope I'll be forgive for missing my day.
Marilyn aka F. M. Meredith
P.S. Our great-grandson and his wife live upstairs. He says we're like an old time sit-com. And it does have that feel around here.
https://www.thestilettogang.com/wp-content/uploads/2016/05/A2BCrushing2BDeath2BRight.jpg
320
214
The Stiletto Gang
https://www.thestilettogang.com/wp-content/uploads/2022/03/TheStilettoGang-logo-09.png
The Stiletto Gang
2016-05-04 09:18:00
2022-07-05 18:08:28
Ooops, I Missed my Day by Marilyn Meredith