The Dreaded Writer's Block — by T.K. Thorne




Writer, humanist,
dog-mom, horse servant and cat-slave,
Lover of solitude
and the company of good friends,
New places, new ideas
and old wisdom.


I spent hours today trying to figure out a new way to kill someone.

No, I did not have a fight with my husband; I was suffering from the dreaded "Writer's Block."
It has been suggested that the best thing to do when you have this condition is to take a walk and not worry about the problem, let your subconscious struggle with it and put forth an answer. After a few trips up and down my long driveway that failed to yield anything productive in terms of plot ideas, I turned to Spider Solitaire reading articles about how to overcome Writer's Block (WB).
When in WB, it feels as if I am being confronted by the Borg. Resistance is futile.

An internal voice complains that I will never figure out where to go from here. I have only 30,000 words in an 85,000 novel. There aren't enough words. Mozart never ran out of notes, did he? What's wrong with me? Am I a writer or not?

Then I begin to daydream a solution to WB. What if I had a team to help me when I get stuck. Wouldn't that be fun? "Okay team, let's brainstorm. I don't need much. Just an overarching plot. . . . Maybe a few subplots. Can you give my characters a backstory while we're here?"
Why not have a group to brainstorm these little things? Jim Patterson has a team. I want one! *whining sound*

Having a mentor is a great thing. A good mentors is gold and can provide input at critical times that can help a writer move forward. But they can't "create" your work.
When I was a young girl, I took piano lessons from Mrs. Cox, an elderly lady (of course anyone over 18 was elderly to me, but she had a daughter who taught at the Julliard School of Music, so she was not a young chicken.) Anyway, she often said she could teach us a piece of music, but she could not learn us the music. It took a while to understand what she meant—that in order to benefit from her expertise, we had to put in the practice. We had to reach a point of proficiency where she could say, "make these notes sing and soften the other hand" or "retard this phrase" or "the piece needs a more lyrical feel overall." If you don't have the notes down, the best input in the world doesn't help and won't fix anything.

The kind of thing I need is basic plot stuff. Someone to say, "Try putting poison in his oatmeal," or "Have a truck run over her" or "This is where the aliens land." Stuff my team would suggest. It's a bummer that novel writers have to work alone. TV and movies writers don't, do they?

Then I read this article about why solitude is best for creativity. What? According to researchers from Texas A&M, "group brainstorming hinders productivity due to 'cognitive fixation.'" I didn't know what that was, but it sounded a lot like writers' block. I read on: "Cognitive fixation is the tendency for people working in groups to get stuck on other people's ideas, reducing their ability to come up with anything new, and the bigger the group, the more fixated everyone becomes. Spending time alone not only eliminates distractions but also ensures that you don't have trouble with 'too many cooks.'"

Bummer. But maybe not. Maybe I should be glad not to have a team, because I would be certain to catch that cognitive fixation thing. So now what? I was desperate, until I read a quote by an American novelist who has won more national and international awards than I knew existed
—E.L. Doctorow. He said that writing is ". . . like driving at night with the headlights on. You can only see a little aways ahead of you, but you can make the whole journey that way."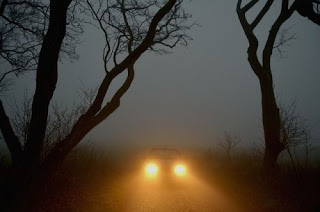 Wow.

If you can write or outline an entire novel with no moments of WB, I bow to you, but the process of "finding story," either by writing into it (hopefully based on knowledge of story structure) or outlining, is a path of creativity that doesn't drop whole cloth from the muse. Getting the story down is only the first step, but it's a critical step. It's a relief to know it's okay to see only a little piece ahead. Let's write that little piece and see what happens . . . .
T.K. has written two award-win
ning historical novels, NOAH'S WIFE and ANGELS AT THE GATE, filling in the untold backstories of extraordinary unnamed women—the wives of Noah and Lot—in two of the world's most famous sagas. The New York Post's "Books You Should Be Reading" list featured her first non-fiction book, LAST CHANCE FOR JUSTICE, which details the investigators' behind-the-scenes stories of the 1963 Birmingham church bombing case. Her next project is HOUSE OF ROSE, the first novel of a trilogy in the paranormal-crime genre. She loves traveling and speaking about her books and life lessons. T.K. writes at her mountaintop home near Birmingham, Alabama, often with two dogs and a cat vying for her lap. She blogs about "What Moves Me" on her website, TKThorne.com. Join her private newsletter email list and receive two free short stories at "TK's Korner."
Click image to purchase on Amazon.com
https://www.thestilettogang.com/wp-content/uploads/2017/12/TKThorne2Bweb2B260-337.jpg
200
154
TK Thorne
https://www.thestilettogang.com/wp-content/uploads/2022/03/TheStilettoGang-logo-09.png
TK Thorne
2017-12-22 04:00:00
2022-07-05 17:55:41
The Dreaded Writer's Block — by T.K. Thorne