Mystery Short Story Nominations
This time of year, it's great to be able to celebrate some of the
best in mystery short stories with the nominations for recognition by the
Mystery Writers of America (which presents the Edgar awards, named after Edgar
Allan Poe) and Malice Domestic (which presents the Agathas, named after Agatha
Christie). The Edgars are determined by MWA member judges and presented at a
Gala Banquet, held this year at the Grand Hyatt Hotel in New York City.
pauldavidsoncrime.com
Following are the 2019 Edgar Best Short Story nominees:
"Rabid – A Mike Bowditch Short
Story"
by Paul Doiron (Minotaur Books).


"Paranoid Enough for Two"

– The Honorable
Traitors by John Lutz (Kensington Publishing).


"Ancient and Modern"

– Bloody Scotland

by
Val McDermid (Pegasus Books).


"English 398: Fiction Workshop"

–
Ellery Queen Mystery Magazine by Art Taylor (Dell Magazines).


"The Sleep Tight Motel"

– Dark Corners Collection

by
Lisa Unger (Amazon Publishing).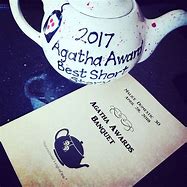 Gigi Pandian's 2017 Agatha Best Short Story Award
The Agathas are nominated by
persons registered to attend the annual Malice Domestic conference in Bethesda,
Maryland, and will be selected by a ballot of those who attend the conference. The
awards will be presented at the banquet on May 4, 2019. This
year's nominees provide a range of time periods and characters to contemplate
and savor. For the first time, a wife and husband (Tara Laskowski and Art Taylor) have been nominated for the award. Here are the links to each story:
Please
read and enjoy!
https://www.thestilettogang.com/wp-content/uploads/2019/03/Edgar.pauldavisoncrime.jpg
161
212
Paula Benson
https://www.thestilettogang.com/wp-content/uploads/2022/03/TheStilettoGang-logo-09.png
Paula Benson
2019-03-25 00:00:00
2022-07-05 17:40:22
Mystery Short Story Nominations