This Christmas by Juliana Aragon Fatula
Dear Reader,
Here I sit in my kitchen
by the woodstove
dreaming of being on stage
performing my one woman show.
I'm serious.
Not a dream.
A frickin' nightmare.
Mylifesuchatragedycomedy.
That should be the title of the play.
Mylifesuchatragedycomedy.com should be my author website.
Just sayin'.
Ok, here is my holiday rant about my dysfunctional family I love and dislike.
Spoiler alert, they're no angels. Hope you enjoy my holiday tale.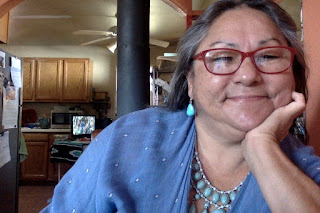 This priceless photo could be titled Juliana's Vata Locas Book Club
or You can't spell SCHOLAR without CHOLA.
This Christmas I remember the family gatherings at my parents' home in Canon City, Colorado. I had two half-brothers and four-half sisters from my parents' previous marriages. My little sister and two little brothers came after I was born in 1957. Counting my parents, there were twelve of us. I never met my Dad's oldest daughter. She only lived ten minutes away, in the next town, but she was estranged from my father and lived with her mother.
My oldest brother and two older sisters , were my mother's children from her first marriage. We were far apart in age and didn't grow up in the same house. They were married and gone by the time I was old enough to remember them. We never grew close in all my sixty-three years on Earth.
I established a relationship with my father's second daughter, Irene, and his first son, Steve. Irene was a surrogate mother to me and Steve being only four years older was my bestfriend growing up and into my teen years. He left when he was 18 and I was fourteen.
My sister, Irene, became my favorite sister until the day she died at 42. I was 32 when she died and it hit me hard. I've never grieved for anyone like I did for her. Even when my father died on Christmas day in 1992 and my mother died on Christmas Eve in 2008, I didn't feel it in my core like I did the day Irene died.
I'm remembering all of the times we spent together and the conversations we shared. She took care of my son when he was a little boy and I worked full-time. We became part of her family. We wrote each other letters when I returned to Canon City and she remained in Denver. I cherish those letters and the love and confidence she gave me. I miss her this holiday and I miss her daughters, my nieces.
My son, Daniel, turned 48 this December. He adored his tia Irene and grew up with her daughters babysitting him and being like big sisters to him. This Christmas I think about the conversations we had together, Irene, Daniel, and me. The love we shared. She left a huge void in my heart but it wasn't long before I filled that hole in my heart with new sisters. Tracy, Aimee, Alice Denver, Judy, Denise, Maria, Lizzette, Debra, Yolanda, Crissy, Corinne, Eva and many other women have come in to my life and upon meeting these incredible women, I instantly knew that we would become life long friends, sisters.
I don't have close relationships with my siblings, except for my brother, Steve, who lives in Long Beach, California, and my cousin, Aimee, who lives in Camino, California. I have kept those two in my life because they support and love me and my other siblings have fallen by the side because we have nothing in common other than the same parents.
I had to leave family behind in order to keep my sanity and I'm glad I made that choice to leave them and find love from people who love me for who I am. My brother, Steven, doesn't understand how I can abandon family and love strangers like Tracy, Judy, Maria, Denise instead of the sisters I am blood related to. Aimee and I are blood related on my Father's side. But I made a choice and I don't regret finding new family. I'm happier because I chose my sisters and they get me. I don't have to worry about them being racist, or homophobic, or xenophobic, or liars, or thieves, or abusive to me. I chose the women in my life because they are like me. They are educated, intelligent, open minded, and most of all liberal like me.
This pandemic and this 2020 election have divided families, neighbors, and the country. I can't respect anyone who believes putting babies in cages and separating families at the border is acceptable. I respect their right to their religious beliefs but not against humanity, not about a woman's right to choose.
This Christmas, I'm staying home, sheltering in place, wearing a mask in public when I venture out my door, and practicing safe distancing. This Christmas my neighbors and family have shown me their true colors and they have the right to choose to follow their beliefs but they do not have the right to tell me how to live my life.
I hope this Christmas you are able to love who you love and fight for what you believe in. In 2021, life will change. My hope is for those families who were separated at the border to be united, somehow, someway. And for the family I've lost, I wish you happy holidays and a prosperous new year. We can agree to disagree and go our own ways.
https://www.thestilettogang.com/wp-content/uploads/2020/12/jan2B20202Bjuliana.jpg
213
320
Juliana Aragon Fatula
https://www.thestilettogang.com/wp-content/uploads/2022/03/TheStilettoGang-logo-09.png
Juliana Aragon Fatula
2020-12-24 05:00:00
2022-07-13 18:24:58
This Christmas by Juliana Aragon Fatula