by Bethany Maines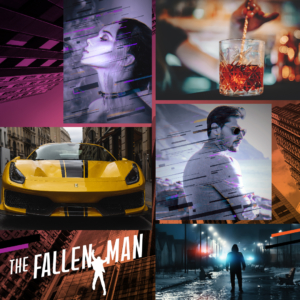 The Fallen Man Release!
Next week sees the release of the fourth book in the Deveraux Legacy series – The Fallen Man. I suspect that each author picks their projects based on something in the story that they want to explore. For me this series started out as an exploration of why the broody, possessive, and sometimes abusive, "alpha" males are still getting plenty of romance novels written about them. The first, and most obvious answer is that they're fictional. Like Vegas, the things that happen between the covers of a book, stay in the book. I suspect that a lot of people who enjoy those characters in fiction, would not appreciate those behaviors in real life.
How Did We Get Here?
I read one romantic comedy where the hero broke into her apartment with three other guys and relocated all her things to his house. Not surprisingly, for fiction, she didn't call the cops. In real life, that's a quick trip to the nearest police station. Also, did he manage to get her rice cooker? She had roommates—how did he know what furniture was hers? And did he rummage through her drawers and see any… toys? Inquiring minds want to know. Then there are the "dark romances" where the heroines somehow manage to get kidnapped, forced into marriage, or held hostage and still fall in love with their captors. I mean, Stockholm Syndrome is real, but… ladies! Come on!
I also wonder how similar these romances are to the crime thrillers, where women inevitably end up raped and murdered while the broody hero solves the crime. In both genres, it seems like perhaps the reader gets to control the abuse and trauma that is quite frightening in real life.
I'm Fun! I Swear!
All of which makes my series sound like a real downer when, in fact, it is an action-packed family saga. But my characters did grow from this space of pondering fictional traumas. In each book of the series, one of the Deveraux cousins struggles with their family's past legacy of trauma and attempts to make peace with it. And, oh, dodge some killers, solve a mystery, and, of course, find love. Hopefully, none of my readers are out there thinking… "Call the cops! He's a nutter!"
What do you think? Are the alpha-hole "heroes" still fun to read? Or have we reached a different standard of heroism?
👉 Pre-Order from all retailers: https://books2read.com/FallenMan
THE FALLEN MAN: When orphan and convicted felon Jackson Zane realized that he was part of the wealthy Deveraux family, he thought he'd found his proverbial happily ever after. And for the last seven years, Jackson has dedicated himself to fixing and protecting his new family, all while ruling out love for himself. Until now.

***
Bethany Maines is the award-winning author of the Carrie Mae Mysteries, San Juan Islands Mysteries, Shark Santoyo Crime Series, and numerous short stories. When she's not traveling to exotic lands, or kicking some serious butt with her black belt in karate, she can be found chasing her daughter or glued to the computer working on her next novel. You can also catch up with her on Twitter, Facebook, Instagram, and BookBub.
https://www.thestilettogang.com/wp-content/uploads/2021/11/a-fun-interview-with-bethany-maines-1910248720.jpeg
360
288
Bethany Maines
https://www.thestilettogang.com/wp-content/uploads/2022/03/TheStilettoGang-logo-09.png
Bethany Maines
2022-10-12 03:10:31
2022-10-09 16:06:10
The Fallen Man Release