Anthologies for Fall Reading
by Paula Gail Benson
This fall sees the release of at least four anthologies full of excellent mystery and crime fiction. Here's a list to check out: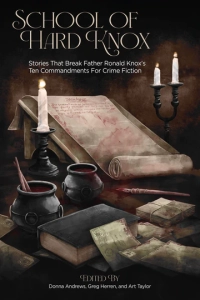 School of Hard Knox. Fourteen authors try to break one of more of the ten rules Reverend Monsignor Ronald Knox called "necessary to the full enjoyment of a detective story." Crippen & Landru Publishers, released August 31, 2023, with introduction by Jeffery Marks, and stories by Donna Andrews, Frankie Y. Bailey, Nikki Dolson, Martin Edwards, Greg Herren, Naomi Hirahara, Toni L.P. Kelner, Richie Narvaez, Gigi Pandian, S.J. Rozan, Daniel Stashower, Marcia Talley, Art Taylor, and Peter Lovesey.
Never Whistle at Night: An Indigenous Dark Fiction Anthology. Amazon characterizes the anthology as "a celebration of Indigenous peoples' survival and imagination, and a glorious reveling in all the things an ill-advised whistle might summon." Vintage Press, released September 19, 2023, edited by Shane Hawk and Theodore C. Van Last, Jr., with stories by Norris Black, Amber Blaeser-Wardzala, Phoenix Boudreau, Cherie Dimaline, Carson Faust, Kelli Jo Ford, Kate Hart, Shane Hawk, Brandon Hobson, Darcie Little Badger, Conley Lyons, Nick Medina, Tiffany Morris, Tommy Orange, Mona Susan Power, Marcie R. Rendon, Waubgeshig Rice, Rebecca Roanhorse, Andrea L. Rogers, Morgan Talty, D.H. Trujillo, Theodore C. Van Alst Jr., Richard Van Camp, David Heska Wanbli Weiden, Royce Young Wolf, and Mathilda Zeller.
Prohibition Peepers: Private Eyes During the Noble Experiment. Stories set during and immediately after prohibition, Down & Out Books, to be released September 25, 2023, edited by Michael Bracken with stories by Michael Bracken, Susanna Calkins, David Dean, Jim Doherty, John M. Floyd, Nils Gilbertson, Richard Helms, Hugh Lessig, Steve Liskow, Leigh Lundin, Adam Meyer, Penny Mickelbury, Joseph S. Walker, and Stacy Woodson.
Happiness is a Warm Gun: Crime Fiction Inspired by the Songs of the Beatles. The sixth anthology edited by Josh Pachter based on songs or movies. Down & Out Books, to be released October 16, 2023, edited by Josh Pachter with stories by English authors Martin Edwards, Paul Charles, Vaseem Khan, Christine Poulson, Marilyn Todd, Kate Ellis, and Tom Mead and American authors John Copenhaver, Michael Bracken, John M. Floyd, David Dean, Joseph S. Walker, Robert Lopresti, and a collaboration by Dru Ann Love and Kristopher Zgorski.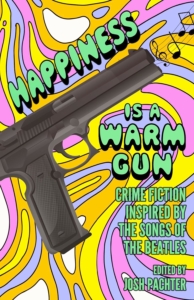 https://www.thestilettogang.com/wp-content/uploads/2022/03/TheStilettoGang-logo-09.png
0
0
Paula Benson
https://www.thestilettogang.com/wp-content/uploads/2022/03/TheStilettoGang-logo-09.png
Paula Benson
2023-09-25 01:30:51
2023-09-24 16:31:05
Anthologies for Fall Reading