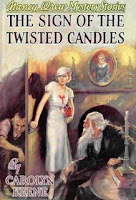 Last night I read my mother's well-worn copy of The Sign of the Twisted Candles. She'd been given the book as a young girl. The copyright date inside the battered cover is 1933. Coming from a family with limited financial resources and lots of siblings, she didn't own many books as a child. She's treasured this one for almost 60 years. I'll be returning it to her bookshelf this weekend.
My mother introduced me to Nancy Drew when I was in the third grade. Many of the words were strange – commodious, oculist; the phrases unusual – jolly friends; the foods strange – jellied consommé. But I still loved the book.
"Oh, Nancy! I'm afraid to go any farther, and I'm afraid not to. Won't you speed the car up!"
Nancy Drew smiled grimly to herself, despite the awe-inspiring situation with which she had to battle. (The Sign of the Twisted Candles, Carolyn Keene, 1933).
Teenaged Nancy Drew wasn't afraid. She seemed to thrive on meeting challenges head-on; her confidence in herself and the power of good to triumph over evil was indeed "awe-inspiring." An only child of a wealthy criminal lawyer and a deceased mother, Nancy is often on her own or having adventures with her two best friends. She gives free reign to her curiosity when she and her friends take shelter at a crumbling Civil War-era mansion that has been converted into a combination restaurant and inn. There is a mysterious old man in the tower room, an overworked, ill-treated foster child, an evil innkeeper and wife, and strange happenings galore. Asking questions, watching people, and following the clues, Nancy solves the crimes and plays fairy godmother to the foster child.
Last week I read Nevada Barr's latest book, Winter Study. Anna Pigeon, Barr's heroine, is a 40-something, National Park Service Ranger. Anna was recently married. But in her words, "They'd been married four months. They'd been together ten days of it." In Winter Study, Anna is temporarily assigned to the wolf population study at Isle Royale on Lake Superior. The survival of the wolves on the island might be threatened, but it's the humans who are doing the dying. As usual Anna uses her experience, survival skills, and keen powers of observation and deduction to solve the murders.
When I decided to compare the two books for my blog entry for Nancy Drew week, I ignored the issue that one series is written for children and the other is written for adults. Although Nancy is around 16 or 17 years old, the themes in the Nancy Drew books are ones that a 10-year-old would enjoy most. Nevada Barr's Anna Pigeon books are definitely for older teens and adults. Was a comparison of the 1930-heroine with the 2008-counterpart fair? Do they have anything in common?
Freedom for a woman in Nancy's day (1930s) was accomplished by being upper class, having inherited money or a generous parent, having a supportive yet distant family who gave you time and space to solve mysteries, and an extraordinary inherent confidence in your own beliefs and intellect.
Freedom for a woman in Anna Pigeon's day (now) is accomplished by hard work and earning your own money, pushing back against stereotypical female roles, having a supportive yet distant family who gives you time and space to solve mysteries, and an well-earned confidence in your own beliefs and intellect.
In both books there is "good versus evil" theme, with "good" winning in the Nancy Drew books and if not winning in the Anna Pigeon books, at least a rough justice is achieved.
Both heroines solve mysteries by using their powers of observation, understanding human nature, and their own personal courage. Both Nancy and Anna walk out into the night alone to confront the unknown. They are both smart, curious, creative and willing to take risks. As my co-author says, "Independent women were revolutionary in the 1930s. And perhaps they still are."
What do you look for in your favorite "mystery" heroines? When you examine the fine print – are they all versions of Nancy Drew?
Evelyn David
https://www.thestilettogang.com/wp-content/uploads/2008/08/TheSignoftheTwistedCandles.jpg
200
136
The Stiletto Gang
https://www.thestilettogang.com/wp-content/uploads/2022/03/TheStilettoGang-logo-09.png
The Stiletto Gang
2008-08-21 05:00:00
2022-07-05 19:20:24
The Sign of the Twisted Candles