By Evelyn David
Rhonda and I have been taking
Hollywood
meetings since we wrote the first Sullivan Investigations mystery,
Murder Off the Books
. Of course, those meetings have been imaginary, but we prefer to
think of them as practice sessions for when we really do get "the
call." Or another way to look at it, we create fictional characters and
settings for our books, what's to stop us from creating fictional casting
sessions? In a perfect example of the mind meld of the collective Evelyn David
(as well as reflective of our ages), we both have always envisioned James
Garner, from the
Rockford Files
era, as Mac Sullivan.
But these fantasy casting sessions have taken on new meaning
over the last week because Evelyn David has gone
Hollywood
,
minus the sunglasses, plastic surgery, and actually, you know, going to
California
. We've
decided to release the three Mac Sullivan mysteries, as well as the first
Brianna Sullivan novella, as individual audio books. We're looking for a reader
who can handle both male and female voices and capture the tone, pacing, and
humor we've written.
Not a job for the faint-hearted. Think about it. When Julia
Roberts played Vivan Ward, the prostitute with a heart of gold in Pretty Woman,
she didn't also have to play Edward Lewis, handsome, tough businessman (Richard
Gere's role), not to mention the sleazy business associate that Jason Alexander
captured perfectly. We're asking one person to play detective, love interest,
and dog – and for the listener to instantly grasp who's talking to whom, where,
and why.
And we love it. We've received several audition tapes of a
few pages of each book. Some actors nail it – and some have been instant
rejections. We think we've found the perfect reader for the Brianna book –
still struggling with finding the right one for the Mac/Whiskey mysteries (dogs
are so hard to cast).
Stay tuned.
All right Mr. DeMille, we're ready for our close-up.
(Can you name the movie?)
Evelyn David
———————————-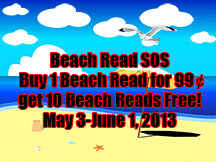 Click the link below to find out how to get 10 free ebooks
(including Murder Off the Books by Evelyn David)
Note: limited time offer
http://tinyurl.com/BeachReadFree10
Sullivan Investigations Mystery
Murder Off the Books Kindle – Nook – Smashwords – Trade Paperback
Murder Takes the Cake Kindle – Nook – Smashwords – Trade Paperback
Murder Doubles Back Kindle – Nook – Smashwords – Trade Paperback
Riley Come Home (short story)- Kindle – Nook – Smashwords
Moonlighting at the Mall (short story) – Kindle – Nook – Smashwords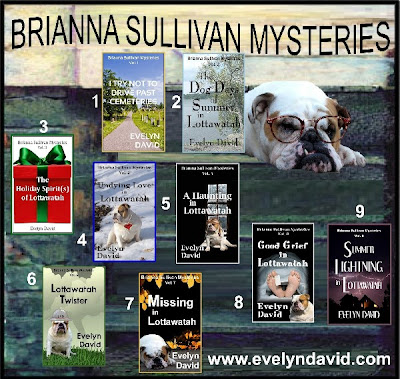 Brianna Sullivan Mysteries – e-book series
I Try Not to Drive Past Cemeteries– Kindle – Nook – Smashwords
The Dog Days of Summer in Lottawatah– Kindle – Nook – Smashwords
The Holiday Spirit(s) of Lottawatah– Kindle – Nook – Smashwords
Undying Love in Lottawatah- Kindle – Nook – Smashwords
A Haunting in Lottawatah – Kindle – Nook – Smashwords
Lottawatah Twister – Kindle – Nook – Smashwords
Missing in Lottawatah – Kindle – Nook – Smashwords
Good Grief in Lottawatah – Kindle – Nook – Smashwords
Summer Lightning in Lottawatah – Kindle – Nook – Smashwords
The Ghosts of Lottawatah – trade paperback collection of the Brianna e-books
Book 1 – I Try Not to Drive Past Cemeteries (includes the first four Brianna e-books)
Book 2 – A Haunting in Lottawatah (includes the 5th, 6th, and 7th Brianna e-books)
Romances
Love Lessons – Kindle – Nook – Smashwords
https://www.thestilettogang.com/wp-content/uploads/2013/05/rockford-files6.jpg
144
200
The Stiletto Gang
https://www.thestilettogang.com/wp-content/uploads/2022/03/TheStilettoGang-logo-09.png
The Stiletto Gang
2013-05-06 05:00:00
2022-07-05 18:32:20
Lights, Camera, Action