by Maria Geraci
I love Easter weekend! When I was kid, growing up in central Florida, Easter was one of the most anticipated holidays at my house. My parents, being strict Catholics, always emphasized the importance of the holiday over all the other religious holidays and made a huge deal of the entire weekend.
As a kid, the best part of Easter was that Lent was over. We didn't have to go to church on Fridays for Stations of the Cross and we could eat meat again any time we wanted. Plus, we could resume eating/doing whatever it was we'd "given up" for Lent.
One Lent I gave up chocolate and candy of any kind. Pretty tough for an 8 year-old. That Easter Sunday I woke up and promptly gorged on all the goodies in my Easter basket. I remember feeling sick all during Easter mass and vowed I'd never give up candy again. After all, if I hadn't deprived myself, then I wouldn't have felt the need to overindulge, right? (at least that kind of logic seemed to work for me at that age!).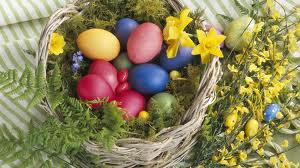 The other best parts of Easter? Egg hunts, warm spring weather, pretty pink dresses, gloves (yes, white gloves!), white frilly anklet socks, and Easter hats. Aw, the joys of growing up in the 60s and 70s. I remember sitting in the pew, alongside my sister and parents, feeling very important in my Easter finery. I don't think little girls wear white gloves on Easter anymore, but they should. If only to have the experience just once.
What are you fondest Easter memories?
https://www.thestilettogang.com/wp-content/uploads/2013/03/easter.jpg
168
300
Maria Geraci
https://www.thestilettogang.com/wp-content/uploads/2022/03/TheStilettoGang-logo-09.png
Maria Geraci
2013-03-28 08:17:00
2022-07-05 18:33:08
Happy Easter!