by Rhonda – the Southern Half of Evelyn David
Let's catch up.
Amazing that it's already February. Time is just
rushing by for me. The past twelve months have been so busy at both my day job,
my writing job, and my home life. I'm having a little trouble keeping up.
In Oklahoma it's been cold, cold, cold. Single
digits temperatures and multiple snow events. You'd think the outside weather
would inspire me to do some serious writing, but instead I just want to curl up
with a blanket, a cup of hot tea, and a good book. At heart I'm a reader first,
writer second. I'm very late to the party, but I just read
Outlander
by Diana
Gabaldon. I enjoyed it very much and I've purchased the sequel
Dragonfly in Amber
,
but have not had a chance to start it.
While my favorite tv shows
(Major Crimes
and
The
Black List
) are either on hiatus or done for the season, I've become a big fan
of Netflix and my Roku. I've finished several British series –
Waking the Dead
,
Calling the Midwife
,
The Bletchley Circle
,
Island at War
and a rewatch of
Foyle's
War
. I'm working on
MI-5
. I think there are about 80 episodes of that series,
so it will take me awhile. Looking forward to new episodes of
House of Cards
,
produced in house by Netflix.
Anyone watching the Winter Olympics? I'm planning
to watch the ice skating and maybe some of the snowboarding events. Have to
admit that I'm not as invested in watching as I was twenty years ago. Maybe I
just kept up with the athletes more. My co-author's son, sports reporter Sam Borden, is in Russia covering the events. His
blog
about his adventure is very engaging. He's almost as good a writer as his mother. I recommend you check it out.
On the home front this past year there have been
roof repairs, new hot water heater, new washing machine and a few other things
I've put off doing/replacing. If I don't get a new mattress soon, I'm going to
permanently cripple myself. Speaking of which, there is good news – not on the new
mattress quest but on the maiming myself point. Thursday night I thought I
broke my little toe on my left foot again, stubbed it against the corner of a
dresser, but now I think it's just a bad bruise or sprain??? Any way my painful
limp has made way to cautious but mostly pain-free walking now.
I did accomplish something this month. My 93-year-young
aunt has written a book about her life growing up in the 1930s rural Indiana.
I've formatted and published it for her. It's her first book! It's available in
both Kindle and trade paperback formats –The Laughing and the Weeping by Bettie
B. Dossett. Her delight in the physical act of holding the trade paperback version
reminded me of how I felt when Evelyn David's first book, Murder Off the Books
was published. There is a certain special joy that is indescribable.
The collective "Evelyn David" has been occupied getting our
Brianna Sullivan Mysteries
published in audiobook format. The
first four are available now at Audible (through Amazon) and iTunes. Our
wonderful narrator, Wendy Tremont King, has provided a delightful voice to
psychic Brianna Sullivan. The fifth book,
A Haunting in Lottawatah
, will be out
as an audiobook in the next month or two. Can't wait for that one! Should work out really well in audio format.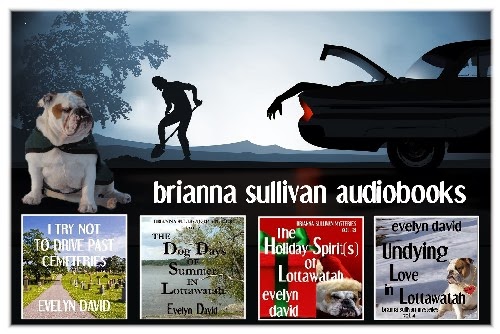 Speaking of ebooks – I heard a news report about that 25% of readers now have access to ereaders or tablets. Amazing! Also there is something new coming – sound tracks for ebooks. Not someone reading the book for you, but a sound track! Music, sound effects, etc. Not sure if I'm ready for that. Although for our haunted house book – creaking stairs, rattling chains….
——————–
Brianna Sullivan Mysteries – e-book series
I Try Not to Drive Past Cemeteries
–
Kindle
–
Nook
–
Smashwords
The Dog Days of Summer in Lottawatah
–
Kindle
–
Nook
–
Smashwords
The Holiday Spirit(s) of Lottawatah
–
Kindle
–
Nook
–
Smashwords
Undying Love in Lottawatah-
Kindle
–
Nook
–
Smashwords
A Haunting in Lottawatah –
Kindle
–
Nook
–
Smashwords
Lottawatah Twister –
Kindle
–
Nook
–
Smashwords
Missing in Lottawatah –
Kindle
–
Nook
–
Smashwords
Good Grief in Lottawatah –
Kindle
–
Nook
–
Smashwords
Summer Lightning in Lottawatah – Kindle – Nook –
Smashwords
Lottawatah Fireworks – Kindle – Nook – Smashwords
AUDIOBOOKS
I TRY NOT TO DRIVE PAST CEMETERIES
THE DOG DAYS OF SUMMER IN
LOTTAWATAH
THE HOLIDAY SPIRIT(S) OF
LOTTAWATAH
UNDYING LOVE IN LOTTAWATAH

The Ghosts of Lottawatah – trade paperback collection of the Brianna e-books
Book 1 – I Try Not to Drive Past Cemeteries (includes the first four Brianna e-books)
Book 2 – A Haunting in Lottawatah (includes the 5th, 6th, and 7th Brianna e-books)
Book 3 – Lottawatah Fireworks (includes the 8th, 9th, and 10th Brianna e-books)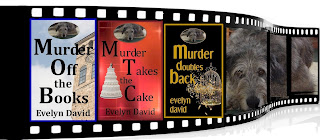 Sullivan Investigations Mystery series
Murder Off the Books Kindle – Nook – Trade Paperback
Murder Takes the Cake Kindle – Nook – Trade Paperback
Murder Doubles Back Kindle – Nook – Trade Paperback
Riley Come Home (short story)- Kindle – Nook – Smashwords
Moonlighting at the Mall (short story) – Kindle – Nook – Smashwords
https://www.thestilettogang.com/wp-content/uploads/2014/02/UndyingLoveAudiographic2.jpg
403
500
The Stiletto Gang
https://www.thestilettogang.com/wp-content/uploads/2022/03/TheStilettoGang-logo-09.png
The Stiletto Gang
2014-02-10 04:00:00
2022-07-05 18:26:37
Odds and Ends